Okay, I think I've gotten the hang of resizing!
This is my first kitty, Loki!
This is my second kitty, Possum!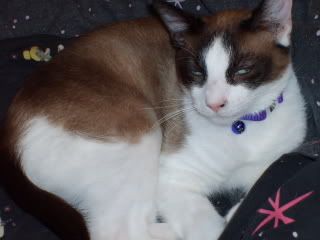 Here they are snuggling together! They are such good brothers!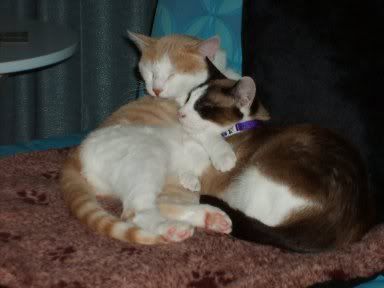 Loki is nearly 2 1/2, and and he's just a "moggie" (or whatever you call a cat mutt). Possum is a few months over a 1 1/2 (though he really doesn't look it, he's a very small guy), and is a Siamese mix ( you probably can't tell, but he has very pretty blue eyes), but he's not as vocal as Loki is! They are the first cats I've ever had, though I did spend a lot of time with my sister's cats. I got Loki shortly into the New Year, and then Possum in March because I thought Loki was lonely with me being gone a lot for school and work. They get along really well and like to play and wrestle.
Loki was a stray originally, then was taken in by someone with 2 other cats. After a few months he decided that he couldn't handle all three, so Loki was given to the Humane Society in December where he was finally neutered. He is very curious and playful, and has a great personality. He's very easygoing and friendly! Personally, I can't understand why anyone would willingly give him up, but it worked out for me!
Possum was found with his brothers and sisters shortly after they were born, and were rescued by Columbia Second Chance. All were incredibly shy, with Possum being the most outgoing (and he's really shy!), and apparently the rescuers secretly believed that none of them would ever get adopted since it took them all so long to get comforatable and warm up to people. Well, now they all have, with Possum being the last one adopted after spending a year and a half in foster care! He's very loving and affectionate, but scares very easily. He hides when strangers come over, and hasn't gotten used to anyone but me yet (because I live alone). He's just so sweet; i'm glad i took a chance on him.
Tricia