I'm going to introduce myself and my kitties. My name is a compilation of five cats that live/d with us in the woods of New Hampshire.
Mary
ELI
zabeth Annabelle Cute died last summer at the age of 17. She was a beautiful Maine Coone who probably would have preferred being an only cat. (no pic)
BON
nie Widget Isabella Mouse was found on the side of the road one November morning about 4 years ago. She had a double eye infection, upper respiratory infection and worms, but we took her in and cleaned her up and she's our very spoiled daughter. She likes to go out on supervised visits and enjoys XC skiing in the winter.
BA
sil Ignatius Frisky Toes was adopted from a cat shelter when Bonnie needed a friend. She had bonded with Elizabeth's brother Barky (Bartholomew Theodore Delbert Bear) and started pulling out her fur when he died. Basil came along and became her new best friend. He was recently diagnosed with belly cancer, but he's still hanging in there.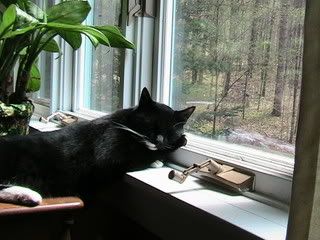 DA
isy June Skitter Kitty was one of seven cats that showed up on our deck one summer a couple years ago. She came in after the others were adopted out, had an expensive operation and was here to stay. She may have been the only real feral cat in the group and definitely prefers the indoor life now.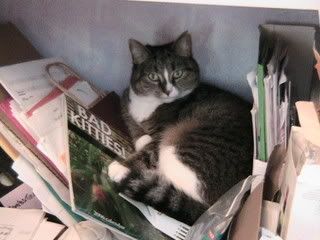 Ty
LO
Boomerang Velvet Paws was one of the seven that was adopted out twice. She was meant to live with us. She gets along with everyone.