Ok so my oldest daughter is a priss. And has an obsession with checking for boogies. Maybe because her little sister likes to pick her nose. Ive tried correcting this but the only thing I can think of that would stop her is using the no chew spray and spraying it up her nose so she doesnt eat them (yea its gross but shes only three so sometimes its still funny...) I love her tho...Shes my lil boogie picker! But anyways onto the funny part. Maddi and I made up a picture thing called the boogie check. She helped me do this today and I thought it would be funny for you guys to see. So enjoy!
Anyone see any boogies..I know I can feel em up there.
Are you SURE you cant see any?
Im looking Im looking...I can see up your nose better from this angle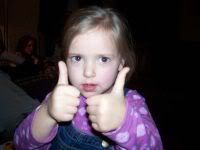 Two thumbs up!! I cant see any boogies!
Thank you for participating in Madilynn Bryanna's Boogie Check!
*~Shes my baby doll!!! I just love her~*