For the past couple of months one of my cabinet doors stays constantly open.
In this picture its the top cabinets to the left of the stove that you can only see part of. They are identical to the ones on the right though...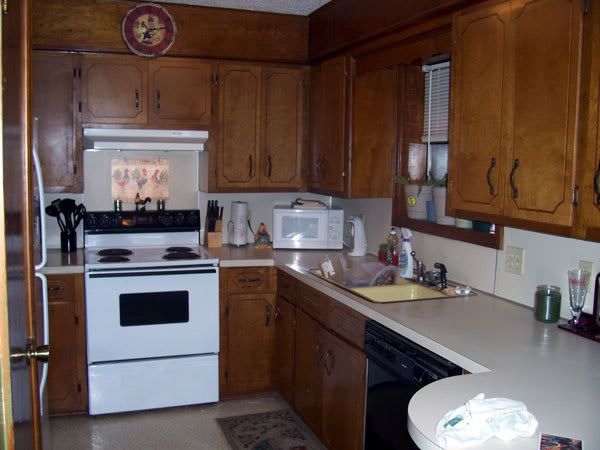 This is the cabinet I keep my spices, Pam spray, sugar, tea etc. in and there isn't any room for a kitty to get in there anyway, but since Madden can open (and close behind him for that matter
) all of my bottom cabinets, I assumed he was the trouble maker behind this one.
Both doors on this cabinet are constantly open, which drives DH and I nuts, we're constantly closing it. Maddens been blamed for opening the doors now for a long while.
Well just a bit ago, I walked into the kitchen and found them open again. I sighed, told Madden I'd appreciate him leaving the doors closed (which only got me a dirty look and a flip of the tail) and then settled on the couch with my laptop.
Madden was right on my heels out of the kitchen and climbed in my lap on the couch. He was not in there alone. After about 15 minutes I got up to get something to drink, and the doors of this cabinet are wide open again!!
Madden was with me the whole time, so now I guess I owe him an apology!
There have been other things that have happened since we moved here including one MAJOR incident that has caused me not to go into the kitchen after DH goes to bed anyway (they say you don't believe it until you see it), so I guess now Madden's off the hook!