In August my 5 yr old cat Gizmo began having this crusty, itchy stuff all over her head & neck. The vet treated it with Depomedrol injections and pills. It would sometimes get a bit better, but never go away. In October he took a biopsy and sent it to the state vet school. They determined that it was "alergic dermatitis". The pattern of her itching is consistant with food allergy. Before this all started she was on Iams multi-cat dry and Friskies chicken or beef wet. I then started her (and her 2 siblings) on NB Vennison & Green Pea. She still never got over it and has had numerous depomedrol and vetalog shots and pills. In fact at times she has been a bloody mess scratching herself all around her neck and face. A few months ago I decided to order Natures Logic rabbit kibble and wet to try another protien source. I don't think that has made much of a difference and they do not like the wet. Since August, there was possibly one or two weeks that she didn't scratch herself. But then it just started all over again. I am of course no longer feeding her the NB VGP, but I'm at my wits end as to what to feed her.
Her are a couple of pictures of her, wish they were clearer.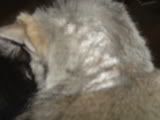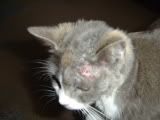 Does anyone have any idea as to what she would be allergic to in the combination of food that she has been eating. I also might add that she isn't a completely indoor cat. She does go outside.