Here's are some pics Ive taken of the kittens today
Sorry they are not the clearest of pics but my digital camera doesnt work well without flash, so i had to use my mobile phone camera.
Here's Reuben the playful poser.....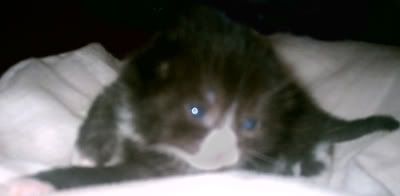 And here's Eden, who unlike her brother is very shy and doesnt like the limelight lol.
Both of them sleeping
I know it may sound silly...but I feel something special about Reuben (don't get me wrong I love Eden to bits too)...I feel that my Gizmo who passed away in January is somehow watching him or in him or around him...I know it sounds like Im mad. And only the spiritual people may understand. But I feel Gizmo's presence when Im with Reuben.
The two do look alike (see below). And since just 7 days old, little Reuben has been coming out of the crate when i'm there to lie next to me and cuddle up or play (Ive never known a kitten like that). He rolls on his tummy, just like Gizmo did (see pics below) and loves it when I gently play with his feet (just like Gizmo did). Im almost in tears as I write this. In fact, Im in tears (of joy) when Im around little Reuben a lot of the time.
Gizmo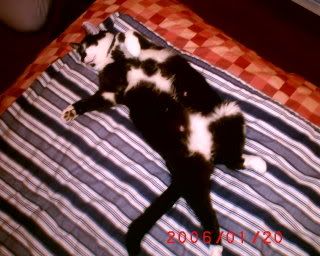 Reuben
On a different note, they were both born very dark...the dark on them was black. Now it looks like Reuben is going grey and Eden is going brown!