Just had to share these pictures. These are the two little babies I had last weekend that were so sick! We really truely didn't think they were going to make it. I wrote a little about this in another thread, but in a nutshell:
* One is a 3 week old tabby girl (left) who was just left behind by her mother. Usually not a good sign. When we rescued her wasn't all that thin, but wasn't eating either. Her eyes were very clouded over and the third eyelid was most of the way up and she had a strange cough.
*The other one is about 7 weeks old and was from a litter of 8. He was pure bone. Poor thing was found laying on his back, head back, mouth open (just like they do right before they pass
). He couldn't meow at all and his eyes were infected and closed. We figured he was basically starving to death because he couldn't see mom and couldn't call to her
.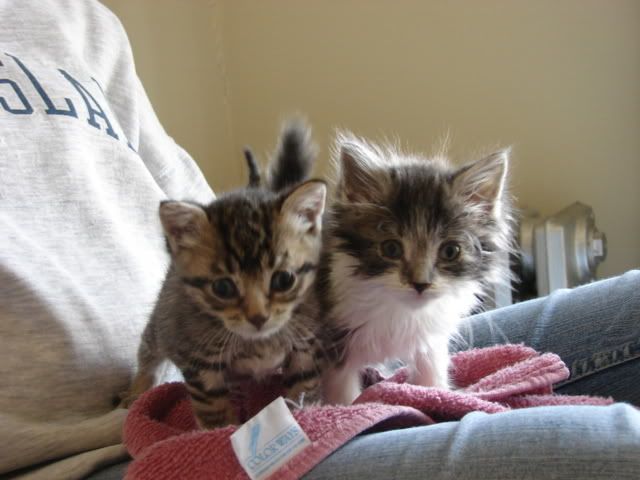 I'm happy to say that they have both made a remarkable recovery. The little tabby's eyes are completely clear (no third eyelid), they're bright and she's very alert. She's active and a screamer and the cough is almost completely gone.
This other one was pretty much a miracle baby. He did a turnaround in almost 3 short days. Eyes cleared up, eating like a little piggy and has turned into an unstoppable nutcase. I just love this picture! He still can't meow at all - so he just opens his mouth like this and nothing comes out. So cute!
What a difference from when we found them. Just had to share the pictures. It makes my heart warm when things like this happen.