Hi there!
I'm not really sure what to say other than introducing my babies.
When I was 9 a tiny kitten showed up on my doorstep obviously starving, upon inspection we found that there were 2 others as well, apparently abandoned by their mother. I had been begging for a cat for years so my mom let me keep one, my Mutty. (we found good homes for the other two) She's 16 now and I can't imagine how my life would have been without her. She's my little soulmate.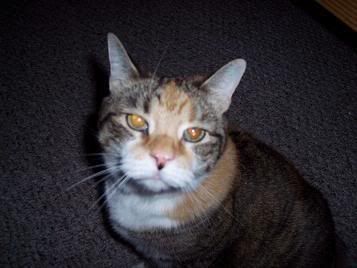 Mutty
A few months ago I really wanted another cat so I was exploring the option of adopting one from a shelter. Then my friend sent out an e-mail explaining how her friend found a stray mommy cat and couldn't keep the babies for whatever reason.
Into my life came Sophie. She's now 8 1/2 weeks old and I call her my little sunshine because she's super sweet and always puts a smile on my face.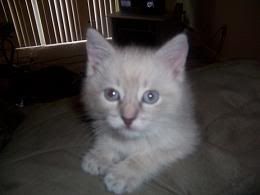 Sophie
It's nice to have found somewhere where people are as nutty for their kitties as I am.