My sister just sent me a photo of Maunzi, my mom's cat... as you'll recall, she wasn't very happy to have me sleeping in "her" room during spring break! Here she is, looking beautiful and juuust a bit chubby!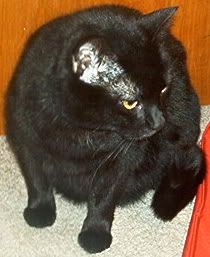 Apparently, she wasn't very interested in posing for my sister
Maunzi: "I can't believe I agreed to this stupid photo shoot! I'm too beautiful for such plebian activities!"