I think i may have got the sex of Eden and Reuben round the wrong way. Not sure. All i know is that I most likely have one of each as they are both different.
An identity crisis. Nice start to life eh?
Im so sorry the pics are fuzzy..again its my mobile phone camera and moving kittens. But can anyone make sense of what sex the kittens are. Im posting the links from gayef's sticky on kittens for convenience below - these have photos. But depsite having the kittens in front of me an looking at the photos, I still cant tell.
Kitten 1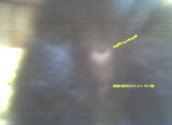 (Ive indicated where the 2 openings are...they are quite close together (more close together than kitten no2). I had this to be a boy - am I wrong?
Kitten 2
(On kitten 2, there is the anus and then a long 'line shape' then a 2nd opening underneath. There is a bit of a gap between the two opeinings. I had this to be a female at first from looking at the photos. But just wondering if those things in the middle are baby testicles?)
http://www.mystic-tree.com/kitten_sexing_guide.htm
http://www.vetmed.wsu.edu/clientED/kittenSex.asp
The more I look, the more I think ive got it round the wrong way? Silly meowmy. Poor boy has spent the first few days of his life being called 'Princess', if im mistaken