Look at the size of her
offline
She is just so massive.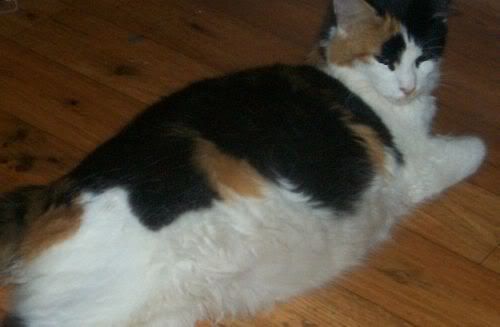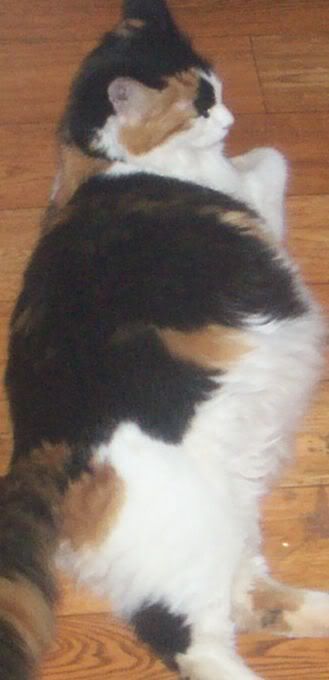 COVERED IN CAT FLUFF

offline
1,786 Posts. Joined 3/2006
Location: UK
Yes, just slightly lol. Ah bless her! She looks like she will pop any minute!
offline
1,879 Posts. Joined 3/2007
Location: Arizona (PM me if you are from AZ too)
How cute!! Can't wait!!
offline
No signs at all now of labour.

She is so uncomfy. I think she will have 6 kittens easily.
Under Portia and Diesels' Control

offline
3,411 Posts. Joined 9/2005
Location: Sydney, Australia
Wow! That kitty is ready to burst!
I think she'll either have lots of small ones or just a couple of giant ones!
Confuzzled :p

offline
8,982 Posts. Joined 8/2006
Location: Rising Sun, Indiana
Wow, she is HUGE! She is a very pretty girl.
offline
280 Posts. Joined 6/2006
Location: Rhode Island
omg lol poor mama!! when is she due??
offline
1,830 Posts. Joined 4/2005
Location: New Jersey
She is a big beautiful kitty!!!
Spinning out of control!

offline
6,250 Posts. Joined 7/2006
Location: Farmers Branch, Texas
I showed this picture to Alley and she said "that looks like two of me"!
Loves Meezers

offline
1,941 Posts. Joined 6/2006
offline
242 Posts. Joined 8/2006
Location: Williamsburg,Ont
She is a big Girl,She probably will have a big litter of babies.

She is georgeous,Her Babies will be beautiful!