Yesterday:
phone call from BF
BF: I postponed the trip to the vet. I could not get Pennie in the cat carrier.
Me: Oh okay
blah blah blah about other stuff
Today:Scene One:
10:30am vet appointment for Bob and Penelope. Both are going back to get their booster shots and Pennie is also going back to get her spay stiches out.
phone call from my BF at 10am...
BF: I can not get this cat in the carrier
Me: lol
BF: she refuses to go in it. I am all scratched up. She has scratched me everywhere.
Me: Oh my..lol
BF: I got Bob in fine but she will not go in.
Me: Did you try wrapping her in a towel first like I mentioned last night
BF: Yes but she scatched and carried on and got out of my arms and is now hiding in the bedroom
Me: Okay, let me see if I can drive home real quick and get her in there
Me: hold on
<<< quick run around the corner to explain to boss >>>
Me: okay I will be right home
BF: (very meekish) Okay, where are the band aids??
Me: (
silent LOL
) on the corner cabinet in the bathroom, bye see ya soon
Scene Two:
Bob is in carrier on deck.
Inside:
(carrier is on couch)
Me: where is she
BF: still upstairs
Me: Okay.
I walk to carrier and place it on the floor door side up, start to proceed upstairs
BF: you want the towel
Me: Yeah, thanks
I proceed to walk around calling for Pennie. She usually hides under my dresser when she gets frightened. I crawl on the floor and see she is on the other side. I walk around talking to her as I go. She runs right to me with a soft meeeooow. I pick her up and set her on the bed. I wrap the towel around her snuggly, lightly scrunch the back of her neck and proceed back down the steps
BF steps away as if the devil spawn herself will making a flying leap from my arms on to his face.
I place Pennie still wrapped in the towel and close the door (with a smug smurk on my face)
BF: well she likes you
Me: you just have to be gentle but firm.
BF: well I better go
Me: Where did she scratch you?
BF: right here on my finger (small band aid is wrapped around finger tip)
Me: where did she get you on the arms?
BF: uhhh no place, I had long sleeves
Me: well good, I will see you after work
I leave and head back to work
Scene Three:
ring ring
BF: well I am all done and everything went well
Me: was she okay with the vet
BF: she was scared but it went okay
Me: that is good. Did they have a hard time getting her back in the carrier?
BF: No, when they handed her back to me she jumped from my arms and ran back in the carrier
Me: oh my (
much stiffled LOLing
)
BF: well I am heading home now
Me: Okay I am sure you will have no problem getting her out of the carrier
I guess in this case both girls won
Here is the devil hell spawn herself. The entire four pounds of her
Bad vicious kitty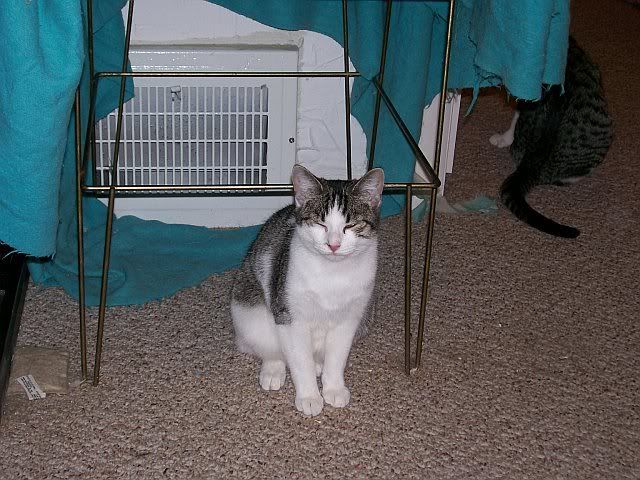 (I know some cats can really be monsters and scratch pretty bad, I am just poking fun at the "scratched all over" to the small scratch on finger. I know even the small scratches can hurt)