Howdie y'all...just stoppin' in real quick-like to share with those of you who have kits, like my Elora, who love to search bathroom trashcans at all hours of the day...and night...in search of Q-Tips...new or used
...only have them being hacked up all over the floors later on. I've struggled and stuggled to find an answer to this problem from getting my family of Q-Tip users to close the door to the bathroom after using a Q-Tip or just taking them all the way to the trash can in the laundry room...where Elora can't get to! Well, this never worked because ya know when you get up in the middle of the night to go potty, well you just forget to close the bathroom door behind you sometimes! Well, long story short. I figured out an ingenius way to solve this problem. I had a couple of empty baby pop-up wash cloth containers, I put one in each bathroom and instructed my family to deposit their used Q-Tips into them and snap the lid shut! PROBLEM SOLVED Y'ALL!!!! I just take and empty each container into my garbage can in the garage every couple of days. Elora has been freed from her Q-Tip obsession and I no longer have to worry about her swallowing those nasty and harmful things and then hacking them back up again...poor baby!
Here is a photo I just took of both the containers. The brown one goes in our bathroom and the blue, decorated one goes in the kids' bathroom. It works really well and it helps that I put it right next to where the Q-Tips are in each bathroom...just to remind them!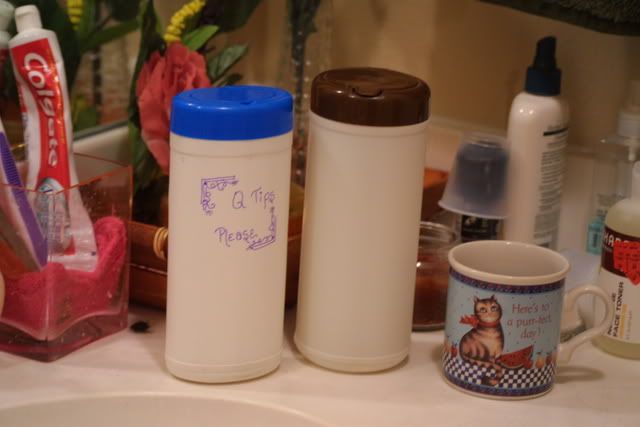 I'll be adding more detail to the kids' container...just did a quick scribble on there to label it...and I'll also decorate ours as well.
Hope this helps someone out there with their kitty-Q-Tip problems! Please feel free to copy my idea...it works like a charm y'all!
Hilda>^..^<