Hey everyone, I know I am new to this site, but if anyone could help, It would be so Apprecited! I have 4 wonderfull cats that need loving homes! Their owner is going through some tough times, and needs to find homes for these goegeous babies! These were cats she had taken in, but due to unforscene circumstances needs to find new homes for them.
Here is the info one these cats that I have.
Smores roughly a year old. No Vet care to my knowledge. Very loveable, but does like her alone time also. Was a stranded kitty in an abandoned trailer. Not as much a purr kitty, but does like people.
Baby cat. Less than six months. Once familiar with you, extremely loveable. Extremely playful. Again, no vet care to my knowledge. Brought in from around outside of our home. This is a hard one to part with. Has a littlepurr-motor
Jynx being held by TJ. Approximately a year also. As is apparent, loving and extremely attentive. Jynx is another rescue from the abandoned trailer, so is lacking vet care. Decides when he wants to bless you with a purr. Obviously was doing so in this picture.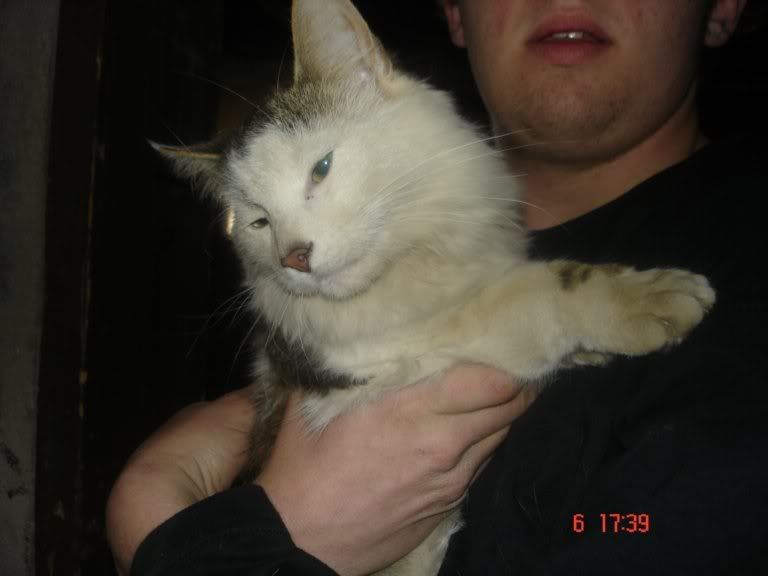 Sunny. He is our rescue cat from near a busy gas station. Was very thin and hungry. Has filled in his weight nicely, but still shows signs of being hungry. Seems to be a sign of living on the street. Once he eats, just wants love and attention. Of course, no vet records. Appears to be over a year or more, but long hair and beautiful coloring. He would be a beautiful addition to any home! He is very vocal. Will "talk"to you. Extremely BIG purr-motor also.
These cats are all socialable, love to be given attention.They seem like they would fit in well with other kitties in any home. They have been shown plenty of attention since joining our basement family, but we need to relocate them as soon as possible because of unforscene Circumstances. Please help me find homes for these sweethearts.
I have taken in two of these babies, but I cannot take in 4 more, I just do not have the finances. So If anyone could help, please let me know! These cats are Located in PA,a nd I can give you more info if you are interested.
Thank you so much!