In sept i brought Nick home from my work. He was a blood doner there giving blood to the emergencies coming in. All together there was 10 cats switching back and forth. I brought him home for my father, he had to put his own cat down a few yrs back and then was told he has MS. He has always been a very big cat person. When I first met Nick it was my father I thought of first, Nick is a very person loving cat. He cuddles up with my father when he lays down and sits next to him while he works at his comp. When You love on him, he drools... alot. He has deffinetly helped my father when the pain hits, all he has to do is pet Nick and he starts to forget the pain.....
Im sorry to say these are the only pics I have of him right now for I am rather far from home these days.
Him drooling on my bed....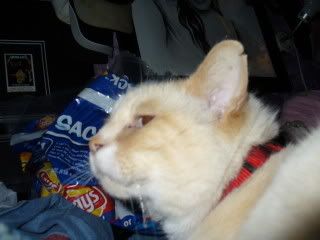 These other 3 are from when he was still at my work and had an eye infection from ripping his way into the attick of a building we did chemo therapy in....