I work with kittens alot... but n ot too often with pregnant mommas... she has me stumped.
We got her in about a month or just over.. she didn't show signs of pregnancy at the time. She was a wild cat and got stressed from being kept inside, so she got sick and had to be moved to our special needs room.
She was in there for 3 weeks or so, before being moved back to the main centre.
A week ago, which was when she was brought back, I noticed she was pregnant. I didn't notice before hand because I don't deal with the special needs cats... I don't even go into that room unless I absolutely have to, because I don't want to risk passing any sickness to the main centre.
She's alot more friendly now, I can pet her and whatnot.. but still can't pick her up to see if she is producing any milk.
After palpating her belly, I think I feel 3 kittens.
But I'd like to know how far along she is so I can bring her home closer to her due date as to not upset my mother. My last pregnant foster cat was 'due any day' and didn't have them for a month after I got her.
She's still got a full appetite and she is mega freindly...
She had to have been pregnant before she came in so she's gotta be at least 5 or 6 weeks along.
Here are some pictures.
Shot from up top
Side shot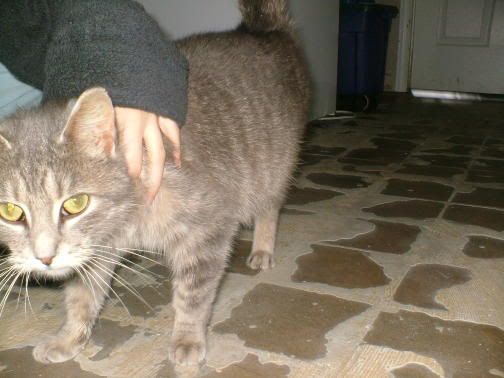 Belly shot... you can see one of the nipples with the fur groomed away from it..