Okay, so there's ONE shot of JoJo, simply because she didn't want to play along... but i get tons of her anyway...
So, I pulled out my film camera and played with settings (I've been lazy and just used the 'automatic' setting, not playing too much)... took a roll of nice shots of them... I'll drop that roll off at some point... bu then I pulled my digital out and played with it's settings... and finally discovered the Sepia and other settings... then got Jack to jump on the windowsill... after some singles and then rapid-fire shots, here's what I have. I just put all of them into the album... including the ones where he moved...
So, here's a super-cropped version of one of them...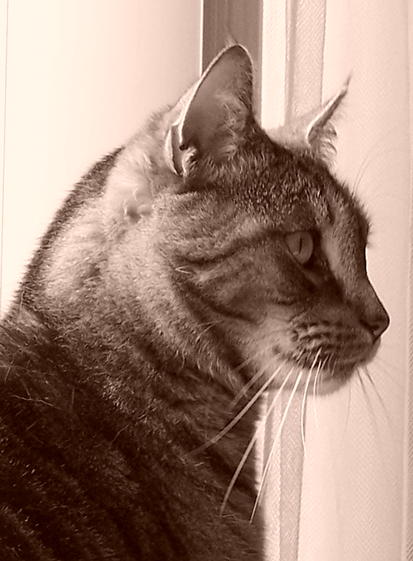 I have to crop, because if i get the camera too close, he turns and head-butts the lense... silly boy! Here's the link to the full album of images... just click on one and there's arrows for going through them.
http://wolfeangel.net/sepiacats/index.htm
Enjoy!!
A.