Well, I have noticed that Lucky was VERY hungry this morning, and I fed them the usual last night, 1/3, or a little less. And when I got the soft food out this morning, boy was Lucky on to that! Lucky was watching me throw away the lids, and kept up with me throwing every lid away. I had to have 4, because of Mika, Hunter, and then the cat, that I am calling Smokie that comes around. And, then Lucky NEVER purrs when it is eating time, but boy does she purr with soft food, and was she hungry this morning!! She is spayed, but she has been rolling around in front of me, or anyone she could.. Lucky is more of the, "I have to eat less, because my figure will get all messed up if I do eat." (she does eat) kind of cat. But, I put the food cans out before I took my shower, and then, when I got out, she was still eating!!! Usually she is done, within 20 minutes or so...
What should I do??? Let her eat? I am trying to slim her down, see how fat she is....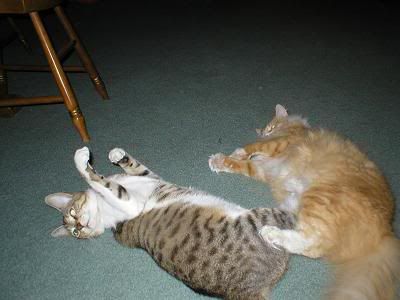 And Hunter is big too, I am trying to slim them both down, and all they want to do is eat!!! I have no idea on their weight, they haven't been to the vet.. yet. But, I don't know what to do!! When all Lucky wants to do is eat!!! I had two cans of cat food out, and Hunter ate most of it, and then Lucky ate the rest of his, and hers!! :yikes: Help would be loved.
Thank you for reading!