I just wanted to share with all of you a major accomplishment for our dog, Max. He has been deemed fit to attend a regular obediance class!!!!
After only 3 private lessons, the trainer feels confident that he will be able to function productively with other dogs and even encouraged us to take him to a dog park!!! We've had issues with other dogs, but private sessions (with dogs brought in by the trainer) have shown that Max is not aggressive, just excited to meet and greet in a very acceptable manner once he's off leash.
I am so happy for him. He is a rescue we got from the shelter a year and 3 months ago. He'd been there for months (large breed hounds are not easy to place) and his previous owners had decided he was too big, strong and goofy (um, he's a DOG, what did you expect?). It's suspected that he was NEVER walked, just tied in a yard.
His teeth show some evidence that he may have chewed for extended periods at some type of tether. We were told he was vet aggressive, kid aggressive, stubborn and not able to be around other dogs. When he first came home, he would snap at anyone who touched his back end.
Now, he's a sweetie. Allows kids to pet him and shows no sign of aggression (never has, actually). Doesn't snap at all.....the back end touching issue was solved by a burst anal gland that translated into twice a day warm baths for relief and salves with plenty of cheese during! He's doing well with learing to control his level of interest/arousal around other dogs, but is only interested, not aggressive. He is a good boy at the vet, though we still muzzle him and he can be a bit of a handful, but our vet is fine with that. He has come such a long long way in the past year. This has been my first experience owning a dog and I was ready for hell, bringing in a rescue....a stubborn 80lb hounddog, no less. But, though sometimes frustrating, it has been SO worth it. Max is our one and only pup and we're so lucky to have him. I can't believe someone left this awesome guy at the SPCA!
Here are some pictures....
After a walk in the rain....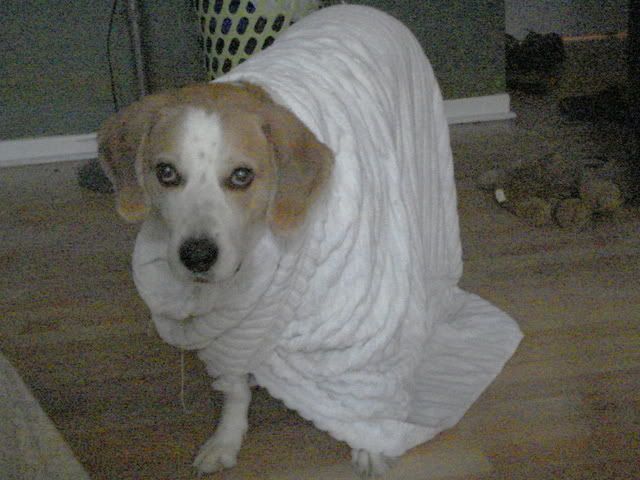 With his best pal, Scooby.....
Relaxing on the couch......and no, he's not possessed