Two more of the rescue ponies came to the end of their journeys recently. Rest in peace ladies.
Magpie was a Piebald cob, about 29 years old. She was very arthritic and also blind in one eye. Although she had daily supplements for her arthritis, it had gotten very bad and she was in a lot of pain - lying down most of the day and in the end, unable to get up. Magpie - you were a real sweetheart and loved getting lots of attention. May you run pain-free at RB.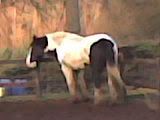 Blodwen was a Section A mare, aged about 32. She came to the rescue centre with her daughter Molly (aged 28) when their owners became too old to look after them properly. The 2 girls had never been separated their whole lives! They were halter broken just recently and were getting used to being handled. The vet thinks Blodwen had a large tumour on her intestines which was causing severe digestive problems and colic. She was in a lot of pain and after several attempts to make her well, it was decided that her time had come. Molly is coping well without her mum and has found a new companion.