Well, I thought I should post some more pictures of Lucky, and Hunter! The two rescues!
Hunter's story, since we got him first.
Well, my sister, one night, heard a large meowing, and it was getting on her nerves, and she went out there, to get a little kitten, it took her some effort to get him, but she got him! He was scared to death!
Lucky's story, she was in my mom's motor, and therefore she meowed a lot, and they found a little ball of fur! lol, now pictures!! Kitten pics are first.
Here is Lucky, with her cool potato head glasses. lol...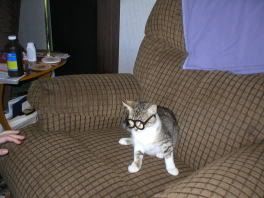 Took me forever to get a good one like this!!
A good photoshoot of them both.
I love photography, can't ya tell?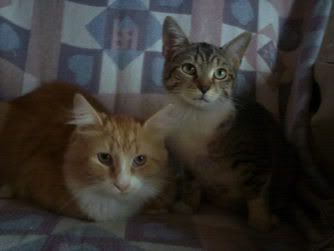 That one, also took me forever to get!!
Recently taken.
http://www.thecatsite.com/forums/showthread.php?t=62844
hehe, a while ago!
Oh yes, this one of Lucky, was almost 2 years ago!!
Awww! Lucky hisses at her like crazy now! Lucky knows there are going to be more Mikas!! When Mika was somewhat of a baby.
Some videos!! Ignore my voice. In a second..