Hi everyone!
I want to introduce Destiny and ask that you keep her in your thoughts. She could use some good vibes. Here's Destiny...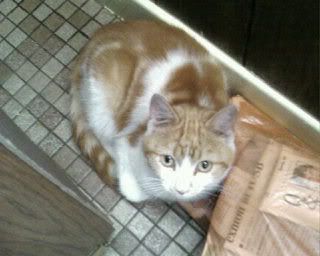 Destiny is currently living w/ a girl I work with. Her dad found Destiny in the parking lot where he works and asked Adrienne to take after her. Well, after a trip to the vet we find out that poor Destiny has FeLV. Hopefully it's been caught in the early stages but I haven't heard any more news. Apparently Destiny really wants to go back outside so she's driving Adrienne a bit crazy with her crying. Destiny doesn't yet know the luxury of being an indoor cat. On top of that Adrienne has been having a really bad week to so this news about her new kitty baby is just insult to injury.
If you could spare them I think both Destiny & her new mommy, Adrienne, could use some good vibes.
Thanks.