can ya feel the love?
offline
2,244 Posts. Joined 1/2006
Location: philadelphia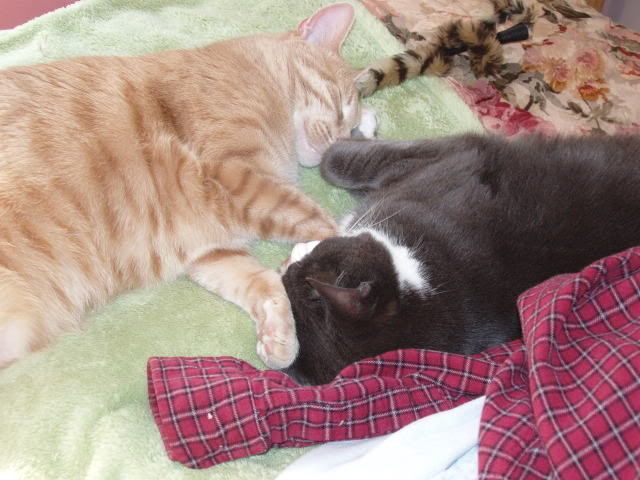 they look so angelic, asleep.
offline
3,918 Posts. Joined 9/2005
Location: North Carolina
Ah yes, the angelic tranquility of sleep. They look very content!
offline
2,394 Posts. Joined 3/2006
that's a great picture.
COVERED IN CAT FLUFF

offline
1,786 Posts. Joined 3/2006
Location: UK
aw cute...I wonder if they are dreaming of each other lol
offline
18,426 Posts. Joined 7/2006
Location: In a state of misery w/o my Bella
What a sweet pic
offline
3,045 Posts. Joined 11/2006
"Can youuu smellllll where the paww has been!!!"
offline
916 Posts. Joined 1/2007
Location: Canada
From that angle they look just like my boys.
I love it!
Slave to a houseful of fur

offline
5,017 Posts. Joined 11/2006
Location: Pittsburgh PA
awe such cuties, and o my snuggley kitties, that pic is just too cute
Foster Meowmy Extrodinare

offline
22,224 Posts. Joined 4/2005
Location: USA
awww! what sweet sleepy babies!
offline
13,321 Posts. Joined 12/2004
Location: The Land of Cheese
I love pix of cats asleep! THose two look as if butter wouldn't melt int heir mouths, but I bet they're dreaming of mischief.
offline
2,865 Posts. Joined 11/2006
Location: Watching the robins sing!
I just love that picture! Two buddies who like to "stay in touch" even when they are sleeping!