Today we started the spring cleaning. My mother says "how long could it possibly take to clean a 2 bedroom apartment?" Um, a LONG time. We have 5 animals, 4 cats and 1 dog, so there is hair hiding in EVERYTHING. The apartment itself is kind of ghetto, so I aim to wash down every floor, wall and baseboard in the place. And, my boyfriend is a packrat, so there is crap everywhere. I want to get rid of, donate, throw out, or reorganize everything so that there is a place for the stuff (hopefully not a lot) that we decide to keep. At this point, it's so frustrating because we can't put everything away...there just isn't room!!!!
We've decided to try to do one room every day we have off together. If we tackle the mess as a team, it'll be faster and I won't "accidentally" throw out something he absolutely must keep.....you know, like a magazine from 1995 or something.
Today, we started small....sort of. A small room, the storage closet. I forgot to take a before picture, but it would have just looked like an open door and a wall of junk, because you couldn't have fit another thing in that room. It was literally filled to the door with junk piled on more junk. So, while the room was small, the job was big. It took us just over 3 hours, but WE DID IT!!!!!
So, here are the finished results.......
George, checking out a room he probably didn't even realize existed...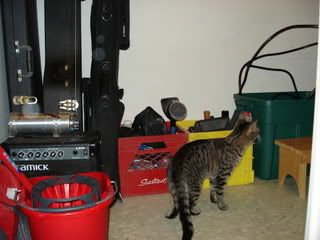 The shelves have boxes and tools on them, instead of just being decorative!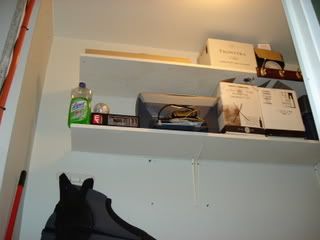 "Look, Addie!!!! You can see the floor!" PS don't mind the stains, they'll never come out and the crappy tile isn't worth scouring....did I mention we live in an pit of an apartment building?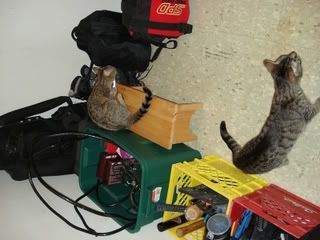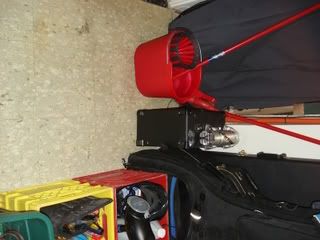 Stay tuned for next week's installment, complete with before and after shots..........The Spare Bedroom