Hi everyone! I'm new here. First time cat owner....we have a pair of kittens we rescued that were tossed from a moving truck
...saw something fly out the window so I went to investigate....me, my boyfriend, and my son fell in love with them that day...so we kept the little bundles of joy. We found out that one is two weeks (roughly) older than the other...both males. So cute.....
Little did I know what I was getting myself into!! I'm a dog owner....I like big dogs...I have two big dogs. Both are labradors and weigh over 80lbs a piece. How hard could two little kittens be? OMG very hard apparently!!! Let me introduce you to my kittens!!!
First there is Alfred...he is grey with black stripes like a little tiger. Alfred is the bigger and the older one. Alfred likes to eat..and eat...and eat....and eat...and eat....and claw up all my furniture....and sleep...and eat and eat and eat....he's a big fan of food. Everyone's food is apparently preferable to his own. He was hogging all the food so James (the other kitty) could only get about 1/3 of what Alfred was getting. After that Alfred likes to try and dine on the dogs food which they like to take their time emptying their bowl...he is contantly being chased away from there by either one of the dogs or by me or bf with the sprayer. Alfred also likes to try to escape outside on a ten time daily basis....he suceeds a lot and then he hides under the car and hollers and scratches when we take him back in. Oh yes he also knows how to open the refrigerator if you don't shut it just right. That's our Alfred....he was so sweet and was the CALM one at first. He was the one that crawled up in my lap everynight to get petted before bedtime and shared my pillow with me.....now he sleeps at the foot of the bed...I think.
Now there's James. James is all black except for a little white tuft of fur on his underside that looks kind of indecent
James is smaller and has green eyes. James was mister wild thing when we first got him...he also sucked on my finger all the time and still does it quite a bit now at eight months....though he likes to chew like crazy as well. James doesn't scratch up my furniture...James scratches up his kitty tree like a good kitty. James curls up ontop of me and purrs very loudly. James gets canned cat food in a different room than Alfred so he can get his fill. James like to jump up on the table and steal the food right off your fork!!!!! If James has to be in a room he doesn't want to he leaves a nice present for me when I let him out. James likes to rummage through the trash....James likes to steal your food from your plate!!! One time a friend got up to use the bathroom...James stole his taco then hissed at him when the afore mentioned friend took it back.
Please HELP!!!!!!
Alfred don't let that look fool you!!!! That was about two-three weeks after we got him
James taken about the same time...I'm not sure how he managed not to get in trouble with my dogs for sleeping in there.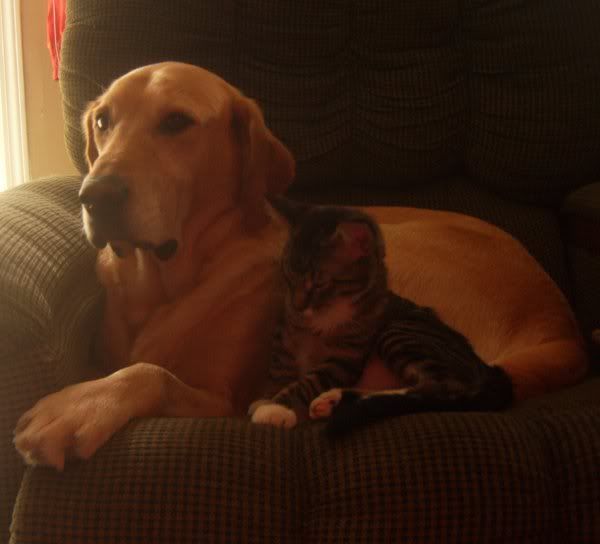 One of my dogs and Alfred about the same time....that is a rare scene they "tolerate" each other. He gets along great with my other dog, they snuggle and he rubs against her all the time purring.
This is more normal. Lucky loves the kitties...James like to swat her nose from time to time.
My son and Alfred...yes that cat sits like that in the chair and sleeps like that