I had to go and open my big mouth again... I was at work (I work at a vet's office) and a woman brought in her 7 year old cat the was going to be put down if no one would take her (she could not afford the insulin)... before I knew what I was saying, the words "I'll take care of her until she can find her forever home" came out of my mouth... The problem is I can't find anyone willing to take in this sweet little girl. I was hoping someone here could take her or knew someone who could give her a forever home... I live in florida and would be willing to drive her anywhere in the state of florida to give her a good home...
Let me give you a little info about her...
She is a spayed female. She is 7 years old. She is negative for FeLV and FIV. She is the SWEETEST little black and white girl you ever did want to meet. She has now been started on PZI insuln. We are still working on regulating her though. She's up to 2 units once a day and she is getting her blood glucose rechecked tommorrow to see if we are starting to get it under control. Her name is Skylar...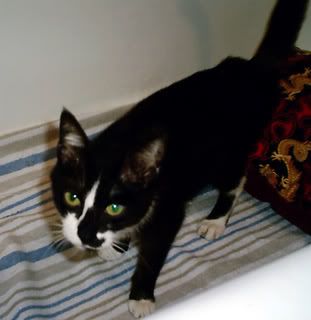 I really need help finding her a home. I currently have a total of 9 cats living at my house (including her and another foster) I just cant find anyone who is willing to care for a diabetic kitty. I cant keep her (I have WAYYY too many as it is). Please help! she is a very sweet and loving cat who only want you to love on her. When I walk into the room, all she does is cry for attention.
Please help me find this sweet girl a home!