We just got Kyra, my parents new puppy. She lives at there house about 1 hour away.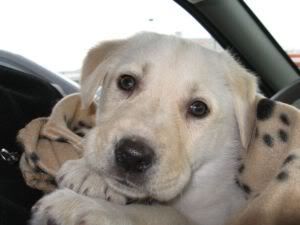 she is a Yellow lab and is only 6 week and 10.4 lbs
Sibohan is my oldest cat at 6 years old and 12lbs, Duke is 5 years old and 25lbs (yeah I know he's big)
So, the question is, should I be waiting until the puppy is as big or bigger than Duke to introduce them?
Duke and Sibohan are comfortable around ogs, my parents had Storm (RIP) for 14 years and the cats and her had an understanding. So should I introduce them alll sooner or later?