Here's my first attempt at showing a video, so be kind (ie don't look at the state of my hair
).
Pushy got a new catnip toy from his aunty today. Do you think he likes it?
[IMG]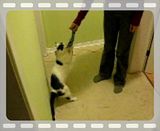 [/IMG]
Hmm, it's really "pixely", but we shot it on high quality?