Ever since putting my cats on what was supposed to be 3 meals a day, I've been having a lot of issues
My main problem is getting my 3 healthy dry eating cats to eat all of their dry food each day. Tazz, the chubster (and the reason I can't free feed) can and will eat 1/3 cup of dry food in 2-3 sittings, but Socks, Mogley and Tinsel (Socks especially) barely eat half of it.
My original plan was to feed their first meal (of dry) at 7am when I get up to get ready for work. I leave they bowls down for approx 20-25 minutes while I mosey around the house. I pick the bowls up, and head off for work. I get home from work around 12:30-1:30pm Mon-Fri, and I put their bowls back down again for approx. 20-25 minutes again. Some days I work from 5-9pm and some days I don't. I generally feed again around 4:30-5pm and by the end of this feeding Tazz is done and the others are no where near finished. I feed their wet food meal at 10pm every night, and I'd rather they eat all their wet than fill up on their dry, so I can't really squeaze another mealtime in there (plus on the nights that I work, I won't be home).
At first I thought that they'd just need to get used to their new schedual, but after about 8-9 days of them eating only half their dry and all of their wet, I couldn't feed them that way any longer because I'm a worry wart and I was really stressed about them not eating enough. So now I've been putting out a set amount of dry every day and once its gone its gone, but that's not helping my chubby cat since she gets to eat as much as she wants, and the other cats have less to eat
.
So I'm running out of ideas. Tazz is a big girl, currently weighing in at 11 pounds (on our home scale) at 11 1/2 months, but she is quite large everywhere (not just her belly
) I know that wet and dry food digest at different rates, but would it be possible to mix the wet with a little dry and feed them that 3-4 times a day, instead of seperate? They all love their wet, so I'm sure if I mixed it in they'd eat the right amount. Both Tazz and Socks seem to have sensitive tummies (have spells of frequent vomiting) so would the mixing stress out their little bellies? If so, are there any more suggestions on how to make sure my kitties are getting all the food they need? (more wet is not an option atm)
This is a picture of ze chubster, if anyone's interested. I'm curious to see if she looks overweight (even though it may be difficult to see through pictures) to you guys, who know so much more about cats than I do (although I am learning
)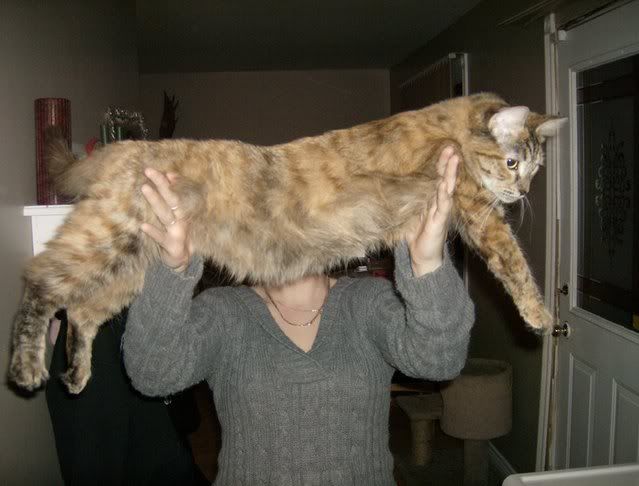 More can be found at my photobucket account:
http://s22.photobucket.com/albums/b3.../my%20animals/
(all 5 kits are featured there
)