Hi,
My name is jennifer I found this site while searching the web looking for answers on pregnancy in cats. I found a stray girl brought her in my house, had her for 1 week and noticed she was getting bigger around the middle.
Before finding her I had just lost my lovely baby girl Chesterbelle of 14 yrs. due to a dog that I was babysitting. It has been about 10 months since she past and I'm still having a real hard time dealing.
Then I saw this stray outside my house over at a neighbors. I told my son to go and get her. She looked in real good shape very clean and very sweet. I think someone left her to fend for herself. Well you snooze you loose right!!!
She's mine now. I am more at ease with her around she has made me feel better.
My husband was out at sea when i brought her in about 12 days ago LOL when he got home he asked what that was laying on my pillow...I said my daughters stuffed cat. hahaha...
Anyway he new her for 2 days she was playing alot and then she got really lazy a day later on the 11th. We both looked at each other and said i think she could be pregnant. so i checked her breast and they are very prominent and swelled up her tummy is alittle bloated on the sides like a donkey. so she was supposed to be seen today but vet cancelled and i can't get her in untill fri. here is a pic of Chester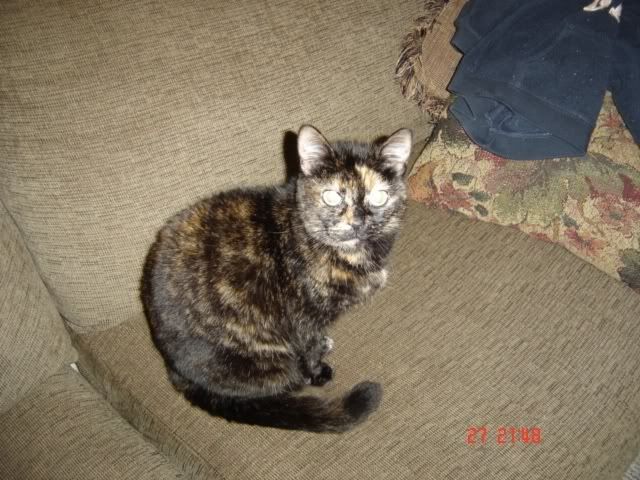 Thank you for reading my very long story
Jenn