Are any of you old enough to remember that we used to call it Communist China? Then Bush gave the country Most-Favored-Nation status, brought it into the World Trade Organization - and all of a sudden it's just "China."
Did I miss something? Did they abolish the Party Congress and they've been having elections for the past few years?
We've been of the opinion that "China" is still Communist China, and it's a sleeping dragon, and no one's watching it wake up. We warned in our strategy pieces that if allowed into the WTO that China would do what it could to turn the Euro instead of the dollar into the world currency of choice, so to speak. And here is a chart of the Euro - the chart is from 1997, and China joined the WTO in 2001: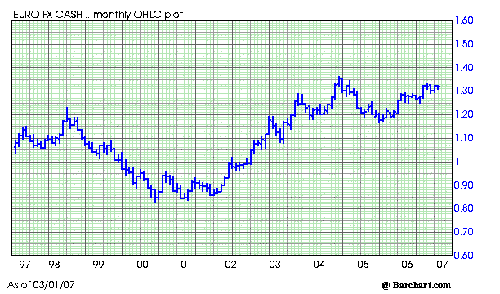 And here is a chart of the U.S. Dollar: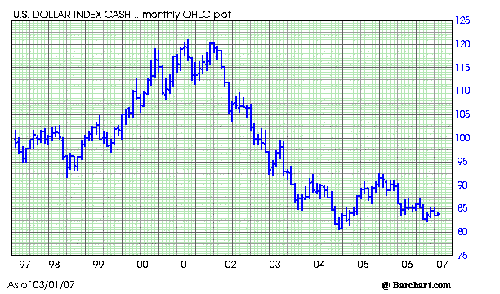 Communist China now has a population of 1.2 billion people, with a "middle class" of 330 million - the size of the U.S. Of course the difference in the Chinese "middle class" is quite different than that of the U.S. - but the growth of the Chinese economy has been the engine driving the world economy for the past decade, really.
The U.S. trade deficit with The People's Democratic Republic of China has grown from $83 billion in 2001 to $232 billion in 2006.
(Try finding something in Walmart made of plastic that wasn't made in China).
Communist China now owns close to 18% of the U.S. Debt. As of 2006, it has the 2nd largest economy in the world, and Communist China's GDP is projected to equal that of the U.S. in 2020.
China has refused to participate in the International Space Station project(s) because they have their own. They plan to have a space station by 2010, put a man on the moon by 2017, and are talking about a space station on the moon.
The Chinese have ground-based lasers that are capable of blinding U.S. satellites. And not forgetting that China has nuclear weapons, did anyone catch this news?
http://www.defensetech.org/archives/003183.html
(I originally saw it on CNN). The Xichang Space Center launched a missile that had the accuracy to leave earth atmosphere, attain orbit, and hit and destroy a satellite. They blew up one of their old weather satellites – but that's not the point. The point is the capability
and accuracy
they have in missile technology.
We can worry about Iraq and Iran, and with good reason. But when China first but a man into space, they did it on the same day (39 years later) on which it exploded its first atom bomb. And when they put their first satellite into orbit, it broadcast a song, "Dong Fang Hong†- The East is Red. (
http://news.xinhuanet.com/english/20...nt_1128878.htm
)
I'm worried about a lot of things. But high on my list is The People's Democratic Republic of China – Communist China – not "China.â€
Laurie