I'm numb. I just don't understand how something like this could happen to my sweet girl. She was kind, loving, beautiful. I just don't understand. Tigger-Pigger was a rescue we've had for several years. She was an indoor (mostly) outdoor cat. She's Mom to Jake, Worm and our princess China. She only came inside when it was cold or at night. It was hard to keep her in. Saturday morning she went out as usual. Around noon a car pulled up in front of the house honking like mad. This lady ( a neighbor) got out and she was crying. I knew she hit someone. I could just feel it. I went outside and she was crying and said she hit one of our cats. I asked where. She pointed down the road. I ran. There she was. Gone. Why!?! Why did this happen?! She NEVER runs back across the road. She grew up outside. She always stayed away from cars. But, she did that morning. She went across the road to the bank and just as the lady got to her, she darted back. I won't go into details. I thanked the lady for stopping and told her I don't blame her for it. It was an accident. My Moms theory is Tigger decided it was "her time to go" and she picked that way to go.
My sweet, sweet Piggy. I'm so very sorry. I miss you so much. Your look. Your meow. The light in your eyes. No words can express how I feel right now. We love and miss you, Piggy. Play happy sweetheart.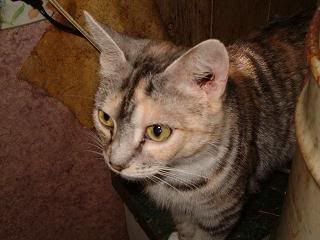 I'm not numb anymore.