It's been a while since I posted last. Most of you may not even remember me and my kitties since it has been about 4 months. Recently my kitty Ginger won a pet photo contest at Quick & Simple (it's a weekly magazine and they have an online website). For winning grand prize I received a canon digital camera and a Bissel vacuum clearner (RV $700). I was so excited when those showed up on my doorstep! Her picture will be in the May 15th issue of the magazine. Here is the photo I entered that won: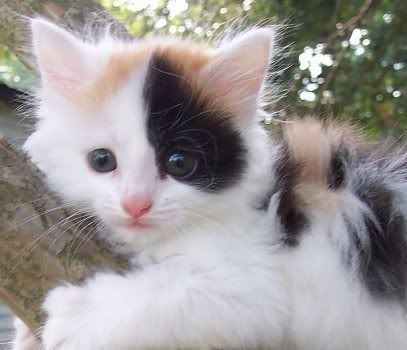 Ginger's brother Fluffy is doing great and they are both now spayed and neutered. My other kitty Michoud is doing great too. One of the strays I was feeding outside (for about 8 months now) turned up pregnant so after having her checked out by the vet (who said she was too far along and didn't want to do a spaying) I have now taken her inside although I keep her away from the other kitties. She is due any time in the next few weeks. We call her Butterball and she is now a member of our kitty family. She will be spayed promplty after the kittens are weaned.
Well, that is about all of the update on my kitties. My daughter Amber is 6 now and taking figure skating classes. She loves it and she loves kindergarten. Things are pretty good and we can't wait for spring! Hope to catch up with everyone else and post more often!