Tuxedo was one of the original "outside" kitties. Lazlo and Shelly became friendly pretty quickly. Spooky learned to love pets and was constantly underfoot. Julius was more reserved - but came to love pets too. Tuxedo on the other hand was a little ball of hiss and spit. They'd all come running when we came to feed them every day. Except Tuxedo, who'd bounce up like Tigger - but then stand his ground, arch his back, flair his tail, and hiss and spit! He was the second-smallest of the bunch, and man was he nasty!
We obviously deemed him unadoptable, and figured he'd be part of the feral colony. But even that became a problem. He was completely disruptive. As other kittens showed up along the way, he sent two of them to the hospital, both needing stitches. Some of you may remember Munchkin, who showed up with Thanksgiving right near Thanksgiving. We ended up fostering her for a few months. She was one he sent to the hospital. What a nasty little cat he was.
It started snowing before Halloween that year. Part of November wasn't so bad. But then it started snowing again, and it didn't stop. And it got soooo cold. Single digits. Tuxie would NOT use any of the shelters we put out. But he would come for meals and warm cat milk or warm chicken broth we made to help warm up the kitties.
One day, after putting out food for Tuxie (who we slowly moved away from where we fed the colony), Tux did his usual spitting and hissing as Gary put the food down. In total frustration, Gary sat down in the snow on the picnic bench and started crying. Then Tuxie walked over and bumped him in the foot. And that was it. Tuxie was Gary's baby boy.
Sometime in February/March, it went below zero. And every time we opened the front door, Tuxie would come running. OK - he loved Gary - but he'd already sent two cats to the hospital, and we had to separate him from the colony altogether. What could we do?
We found a new boarding facility that was basically empty. The woman's family had bred persians, and seemed to know what she was doing. We explained the situation, and she agreed we could board our feral kitty. She would even let him out to run around and play with him, and work on socializing him.
We visited him all the time for a few weeks. He would jump into Gary's arms: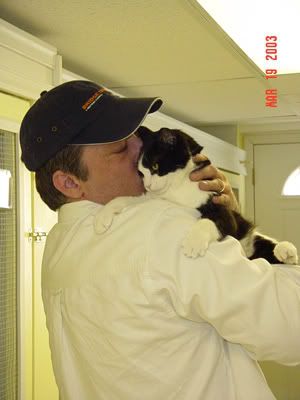 and loved to play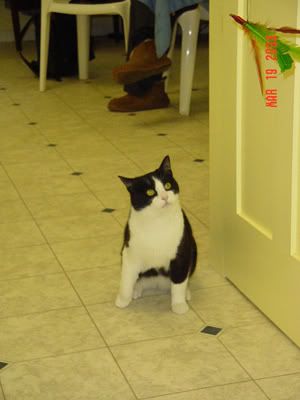 In the above pics, see how puffed up he is from all the Winter weight and thick, thick fur?
Well - we weren't able to get over there for a week, and the lady called us and said "I think there's something wrong with your cat. Every time I let him out of the room (they had two story "rooms" that were about 4 feet wide and 3 feet deep), he runs and pees on the carpet." HELLO? We jumped in the car, got over there, and got him to the vet.
He had a urinary tract infection. Duh. But we still didn't know what to do with him - and we didn't want to take him back there. By this time we knew the vets really well, and the vet techs all gave whatever kitties we brought in there lots of extra attention. We decided to leave him there for a week or two to see if we could find a home for him.
While there, he attacked the vet, who needed stitches. But every time we visited, he would JUMP out of the cage into Gary's arms.
And he stopped eating. The vet said - "There's nothing wrong with him. He has obviously bonded with you, and if you want him to live, you have to take him home."
Oh God. We'd had four cats in the RV already, because we'd fostered Munchkin for a few months before she was adopted. But four cats - with one of them a cat that has done nothing but show total aggression to other cats - and in SUCH a small space? The RV was 37 feet long by 8 feet wide!
But there wasn't anything else to do, so we brought him home. And he was home, immediately. He was so sick because he'd lost about half his body weight so quickly. The other kitties came and sniffed him - and he sniffed back. That was it. No fighting. No hissing. No growling. Nothing. It was like he'd been part of the "happy kitty" family from the beginning!
Poor guy - his first days home: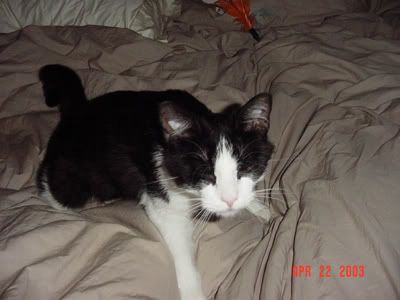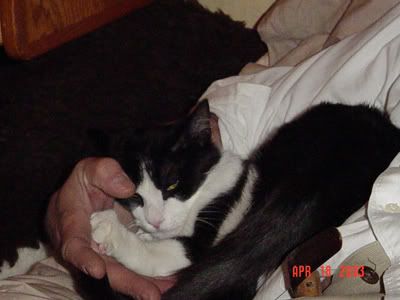 Hey - Playing is FUN!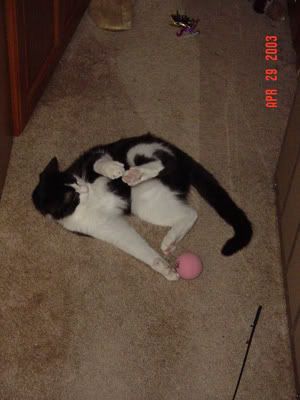 Our Cheshire Cat!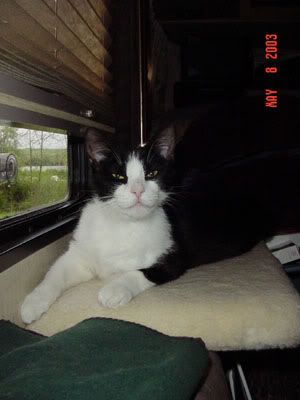 Getting healthy - such big, broad shoulders!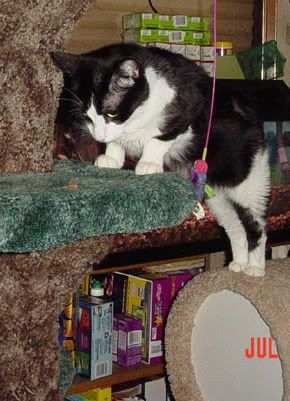 Getting along just fine with other kitties: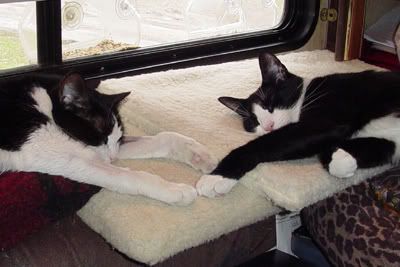 Fully recovered - and now alpha kitty without too much trauma: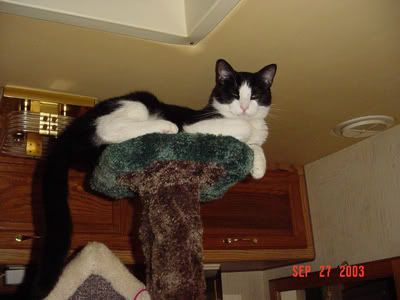 WHAT a face!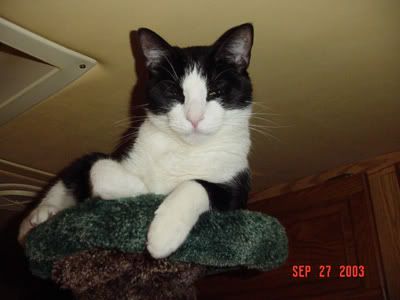 And for such a tough guy - what a softie he is when he's daddy's baby boy!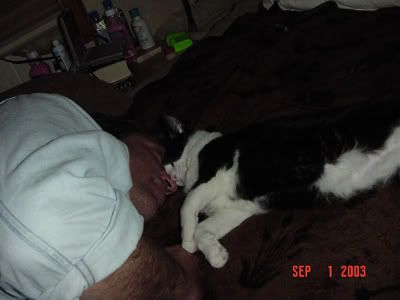 It turns out Tuxedo had an autoimmune problem. We noticed over time that he'd become rather listless, and he started turning his back to us when we were in the same area. Then he would leave the area to be alone. We took him in - and he was terribly anemic. It took a long time to figure out a solution to the problem, and we came very close to losing him twice. I'll never forget the day when Tuxie had again lost over half his body weight. He was skin and bones. His hematocrit was 7 (under 24 is anemic - anything under 12 - 14 just isn't survivable for long), and the Doc said "I'm out of bullets." He had done so much research, contacted experts all over the country, ruled out every disease. BUT - he decided to give him a shot of depomedrol (a steroid) instead of continuing to pill him with prednisone.
And that was all it took. Well - he'd been to the vet's every day for months to get various shots (Epogen, nupogen - things to build up his red and white blood cell counts). In fact, we moved to where we are now specifically so that our drive to this vet would only be 15 minutes instead of 45+ . Then it went from every day to every other day. Then every week. Then every other week. There were a few setbacks along the way, but he was a fighter boy, and he did not mind going to the vet. He was SUCH a good boy, and had it not been so clear he was not giving up there was a point when we might have considered euthanizing him. But he fought all the way back - and how he's his big, fluffy, alpha self. And he only needs to go to the vet every 4 - 5 months or so for his shot of depomedrol now!
Laurie