This story is the heart breaker for me. She was part of the original kitty litter (Lazlo, Shelly, Spooky, Tuxedo, and Julius). She was so teeney (no pics
) and so scared of everything - thus her name. The first to flee - but what a love bug she became. We really should have renamed her "Miss Underfoot."
We already had two inside the RV - we couldn't possibly have more. (Yeah, right!). So Spook, Tux and Julius remained part of the now growing feral colony, and we kept searching for homes for Spook and Julius. We didn't know what to do about Tuxie - but that's a different story.
We got to chatting with a young woman who worked at the supermarket. She and her fiance wanted two cats, and we talked about Spook and Julius. They decided they wanted to take them. We explained they should be considered special needs cats, and before we brought Spook and Julie, I'd printed out all kinds of stuff from TCS on socializing feral cats. She said they were into it.
So we dropped off Spook and Julius - but we had huge reservations. We didn't think to do a "home inspection" first, and we didn't use adoption papers. They had almost no furniture, and no room downstairs with a door, so no small room to release them in. There were a few boxes for hidey places. We should have just stopped right there, and said we changed our minds. But it was already getting so cold and had already snowed that year (Nov 2002), and we were just thinking about them being inside, I guess.
After about two weeks, Gary said he had a bad feeling about the kitties and he wanted to go over and check on things without calling. A couple hours later the phone rang - and it was them! They wanted to give us the cats back because it wasn't working out. Spooky had fled into the heating duct, and they'd been afraid to turn on the furnace. But they were getting cold, so it was a "come and get her or we're turning it on." We're now freaking out, and hop in the car and go.
Julius was in a crate that had been left outside on the snow on top of a pile of trash. It didn't look like he'd been in there more than a day - but it was horrible.
. It was a crate - not a cage. No room for a litterbox... We put him in the car and banged on their door. I'm glad the fiance wasn't home, because Gary probably would not have been able to control his temper (and he's got one).
They'd poured food and milk down the duct to entice her out - but she wouldn't come. She heard Gary, and came flying out of there, straight into his arms. She was COVERED in soot. The milk they'd poured down there was crusted on her face. Her head was badly cut, and she had dried blood all over the top of her head.
Julius needed to be shaved and cleaned. One of the vet techs fell in love with him (a beautiful, HUGE, long-haired orange male), so she took him home (and we've seen him numerous times since. He is in a great home and very loved. ) Spooky needed a few stitches after she was cleaned up. But at that point, we felt SO GUILTY for what happened. And we were responsible, no two ways about it. So Spooky came home - inside - with us, for good.
She was immediately comfortable at home, and the boys were great big brothers. She needed lots of love. And any time a coat or sheet or blanket came out - she bolted. They must have totally traumatized her trying to catch her by throwing stuff at her.
P.S. With the help of the vet, we did prosecute through the ASPCA. Whether or not the abuse was intentional, it was NOT OK. They were fined $200 and banned from owning an animal for two years - the maximum penalty for that "class" of animal cruelty.
Our needy baby girl who stresses so easily (but isn't scared of coats or sheet or blankets any more):
When she was still outside: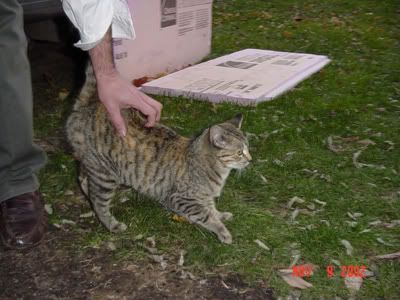 Her first day in our home: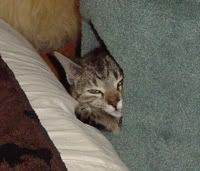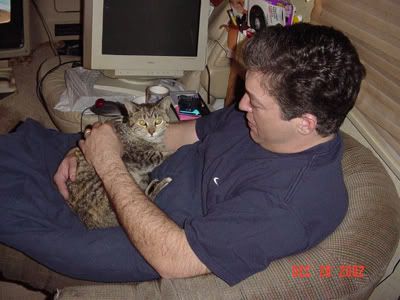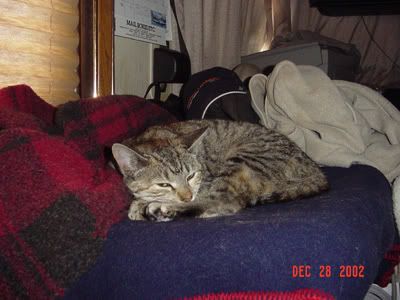 Having learned the fun of play: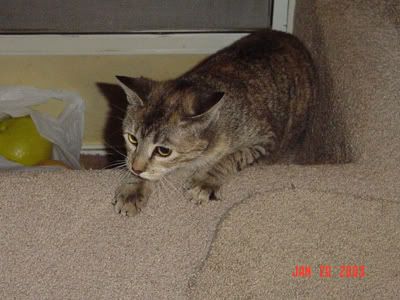 Enjoying cabinets...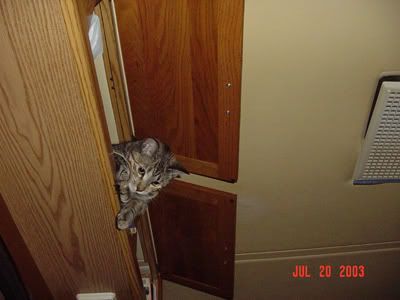 A happy girl with a "valentine" nose: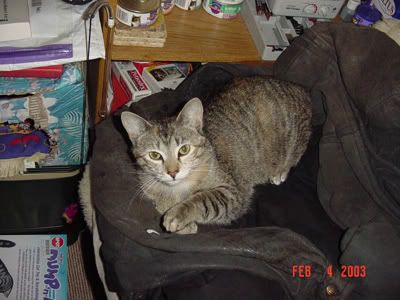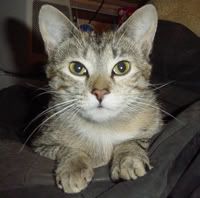 Enjoying love from Daddy: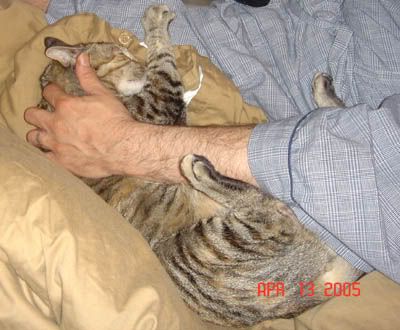 Spooky - we are so sorry, baby! You know you're loved and safe now - and we learned a good lesson the hard way. Thank God you're OK!
Laurie