Lazlo and Shelly were our first rescues. Well - the first we brought inside to be pets. It was just after we first brought in Laz and Shel when I first found TCS! We'd already been caring for (and had her spayed) Booger - a pure bred Maine Coon stray. But that's a different story (we ended up adopting her out through a breed rescue group).
On the fourth of July, the cat family disappeared. For whatever reason, they left Lazlo behind. Then, he was just "the grey kitty." July 5? Constant meowing from the hill where they were born. We'd already been feeding the kitties for a little over a month. We fed him like normal, and he came. He was the first one we could pet - but only while he was eating. July 6? Constant meowing. The family hadn't come back. We didn't know they were going to return - so I asked Gary.... "What do you think about brining him inside?...." and the rest is history. (Neither of us had ever had cats before).
Gary was afraid he'd pee in the house, and it was a Saturday afternoon, so the vet was already closed, and we couldn't get him a check-up until Sunday morning. So we kept him in the crate. We were so clueless! Poor thing layed on the box of soil we had in there (we didn't have litter, but figured he was used to soil anyway). We took him to the vet the next morning - he still hadn't peed. But he was healthy and tick- and flea-free, so we took him to the pet store to stock up on everything we would need. We didn't want to leave him in the car, so Gary tucked him in his shirt. And Lazlo crawled down the arm of his shirt and started purring.
We took him home - loaded with food, toys, two litter boxes, litter, etc. He stayed cuddled in Gary's arms until we had to go to bed. His litter purr motor was going, but he was scared, poor little guy. He STILL hadn't peed, so we put him back in the crate. He FINALLY went to the bathroom, so we praised him to high heaven, scooped the pee out of the soil and put it in the litter box - and Laz immediately jumped into the box and went poop. And that was that.
Of course, the family came back on Monday. But - Lazlo was already part of the family. He started crying by the door, and it was breaking our hearts. We had to spend long days in NYC back then, and we were worried he'd be lonely, and that he was crying because he missed his family. The fam was back, and we were feeding the kittens again. So Gary went outside and picked up Sheldon - ("black legs" then) - the first time he'd ever tried to - and walked down the hill, and brought him inside and put him in my arms. Shelly looked up at me - and FREAKED! It's like - he just noticed he was inside. He RACED to the front of the RV, RACED to the back of the RV...
Lazlo was not the happy brother, excited to see a member of the family. He saw a moving target, and went for it. They turned into a ball of hissing spitting flying fur... Gary clapped his hands together really loudly, and they both bolted into hiding. We kind of looked at each other.... wondering what the heck to do. Decided to just leave it alone. After a couple of hours, we had to go pick up Gary's mom from the airport. Should I stay? Should I go ahead and leave? What the heck. We doubt they're actually going to kill each other, right? So I go. We come home - and can't find either of them anywhere.
We thought they'd figured a way out we hadn't known about. I look the last place I think they'd ever be - in the crate. There they are, a bundle of black and white Shelly entwined with a bundle of grey tabby Lazlo. We got lucky. Guess they were young enough for us to get away with it. But TCS helped us learn everything we'd done wrong!
Baby boys: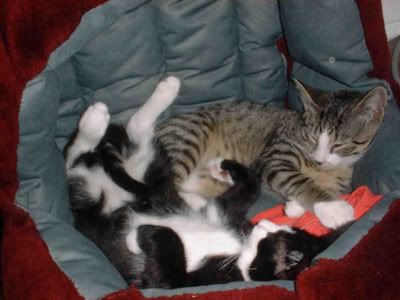 Baby feral box boys: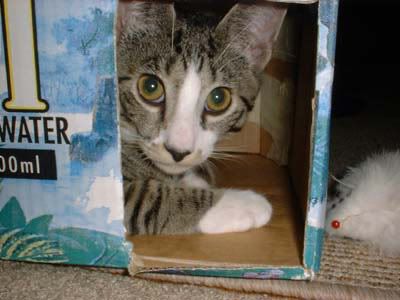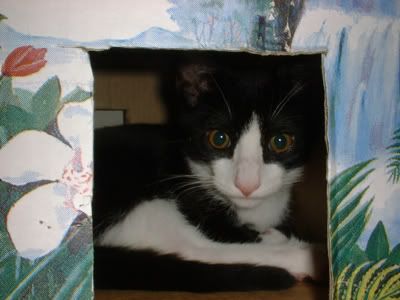 Daddy's baby boy: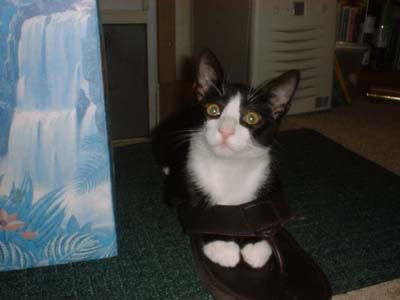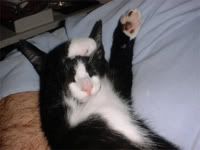 Lazlo adjusted to being inside really well and LOVES boxes!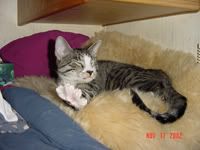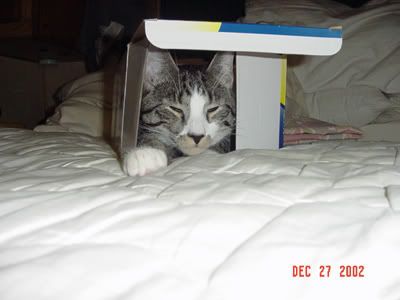 And - well - they were our first two kitties.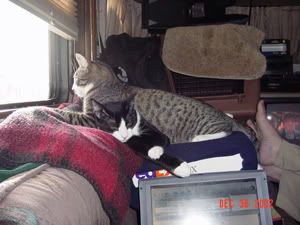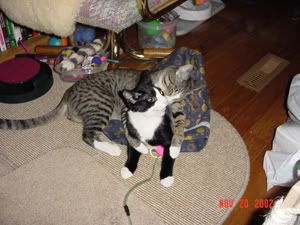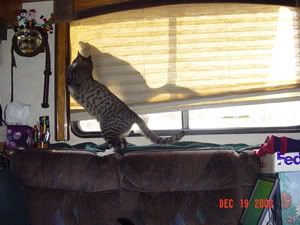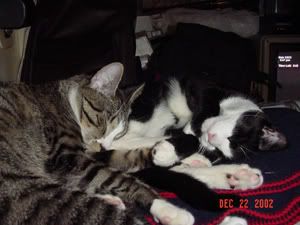 Laurie