Here's a video of Tango being "attack cat"!!
Don't watch if you have a weak stomach...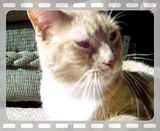 He always want to play with my hand if I try to pet him and hmm he tend to bite HARD so I try to disencourage it but no progress so far..
I don't know if u can hear me in the video but I remember I was yelping a bit in pain as I tried to pull my hand away from him but he HUNG ON!!