Hi,
Ive not been on here for ages, sorry. But ive just come on to tell you about my brother Tigger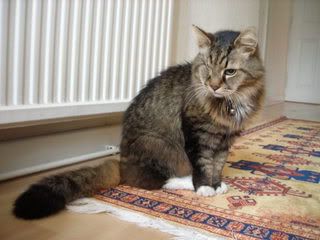 Tigger hasnt been well since the end of last year. (he hasnt been eating, and has been sick all the time, he is on medication to keep his food down but doesnt seem to be workin) vet said it could be stomach tumors)
He's been trying to go to the toilet for a few days but nothins happening, he's not eating at all and he hasnt go any muscles left in his back legs, where i use to love touching n seeing how strong he was, but now theres hardly anthing there.
This morning i saw him trying to go the toilet again and when he came in he started washing his bits, n i thought id just have a look and i noticed that somethin was coming out! (not feaces, but flesh) So i told my dad and my dad phoned the emergency vets and they said bring him in at 3.50pm today, and thats when my baby brother is going to go over the rainbow!
I'll miss him so so so so so much.
I cant stop crying, ill be loosin my best friend.
So just thought id let you all know whats happening.