First of all I will start out with Vixen. She is a real ham and a camera hog. Vixen is 2 years old she will be 3 on the 24th of April. She is from St. John's, Newfoundland, Canada. She made a trip across country with my husband and I in a big uhaul. We stayed a year in Toronto and then she made the big transatlantic flight here to Italy. She is a well travelled girl to say the least. Enough blabbing on with the pics.

Here is my beauty baby...VIXEN
Posing pretty for the camera on mamma's bed
Relaxing on the couch after a hard day.
doing what she does best...relaxing
I really like this picture. I just love the look of the rays of the sun.
My undercover lover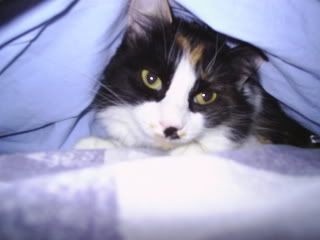 This is a old picture of her with her sister Lilith. Lilith was a very special girl. We lost her in september of 2005. She was only 18 months old. She was taken by feline leukemia. Vixen is also felv+ but is healthy and happy and doing well. (knock on wood...I don't want to jinx anything by saying that) We hope she will be with us for years to come yet.
I could put a ton more but I will stop with these for now.
Next post pics of Phoenix