About 3 years ago, with the help of a local rescue, I trapped 4 kittens and 2 adults. Three of the 4 kittens were adopted, the other was released along with an adult orange female. The male was an abandoned cat and in bad shape. He was adopted and is now living the life of a king.
I haven't seen the 2 that were released in about 2 1/2 years and thought the worst. But earlier this week when I got home from work and walked into the kitchen, I saw a shadow on my deck stairs. I was so surprised to see the orange girl sitting there looking at me. I put a bowl of food out for her and she came and ate. She looked great, nice and healthy and well fed. Here are a few pictures of her. The quality is lousy because I took the pics thru the nose-printed glass.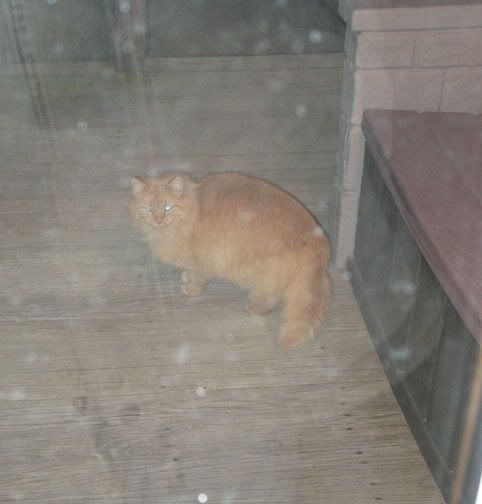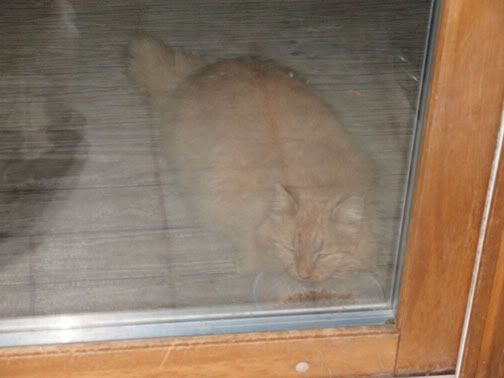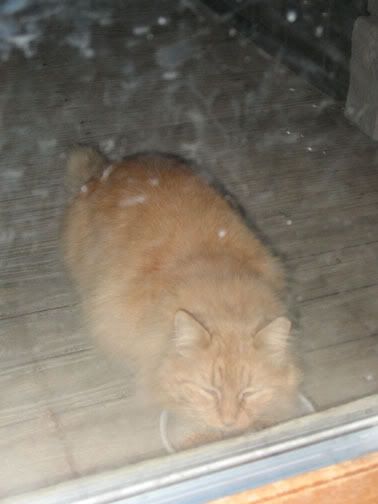 And here are some pics of Thomas, formally known as Trouble, in his new home. He was left behind when his family moved, unaltered and constantly fighting with other males. I would come out to blood on my deck. I finally couldn't take it anymore, this was a cat that wanted to be around people and even allowed me to give him a bath. His face and eyes would be covered in ticks during the summer and at one point his skin was literally hanging off of him after one of his fights.
I contacted the rescue who helped me with the TNR and asked them if they could take him. I would have but had 2 of my own cats and 1 foster cat that did NOT like him. A great lady from the rescue fostered him for a while and cleaned him up. Then a woman fostered him with the option to adopt and he's been with her ever since. He is FIV+ but I know with the love he is getting he will live a long time. His new mom sends me pictures and updates from time to time. I couldn't be happier.