Some of you may remember that I have been living all winter with water lapping against the back wall of the house, coming from two springs that surface in the hillside above me. This week the masons started at last on trenching the water and reinforcing/repairing the back and side walls. I am so glad to see it happening at last. And tomorrow the guy comes to start installing my bathroom. The kitchen will take a little longer. But here are some pix:
A view of the back. The whole area has been under water for months, around ten inches deep. Now it is temporarily channelled away from the foundations and is running down the lane! It will eventually become a water garden with a little seating area with the water feeding a pond and waterfall in the front garden. You can see how much of the hillside we have had to dig away to ensure there is no damp in the house.
There were no real foundations as this part of the house was once a barn. So the masons are making new external foundations to support the house, and then they will repair all the stonework.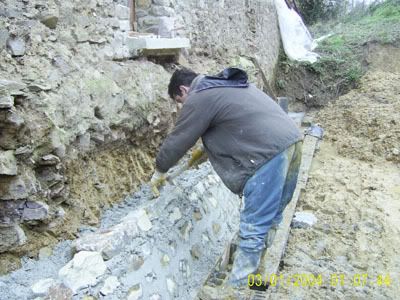 This is the front, showing the old house on the left(where I am currently living) and the old barn part, which will contain my living room, kitchen, study, bedroom and bathroom. The old house, which has a kitchen/living room, three bedrooms and a bathroom, will become guest accommodation. The stonework here has all been redone, but the terrace needs rebuilding and the house needs 'dressing' with shutters and plants etc.
Enough work to keep me busy and my bank account empty for some time!