Howdy all! I thought I'd take a moment to show off my kitties. Napolean is coming on 2 this year[time seriously flies!] and in October of '06 I got a second cat. He's going to be a year old in... hmm sometime this year, I'll have to look hahaha. Anyway, he and Napolean are buddies and get along smashingly. One of the clients at the clinic I work at brought Pause and his two brothers in because they wandered into her yard and had very bad upper respiritory infections. From the first day I saw him I knew I wanted him, the biggest trickwas getting my parents in on it. My dad met him and was convinced we had to have him. I told them we should take him on a foster basis and I really did
try
to adopt him out. [I asked my coworkers and they all said no!
] as it were he and Napolean got on great. I know you're supposed to wait for cats to adjust, but neither of them would stop digging at the door and both of them are cool enough in temperment I gave it a go. The first night there was hissing but there hasn't been a mean peep since. They sleep together, eat together, and play together. I really am a lucky cat mom in that both the cats are amazingly laid back and not overly picky about much of anything.
So anyway, here are some recent pictures!
----
I was sitting on the couch watching a movie and Napolean decided to climb into a blanket that was next to me and he just looked so adorable in it I took a picture.
Napolean doing his "king" pose since he is the once in charge!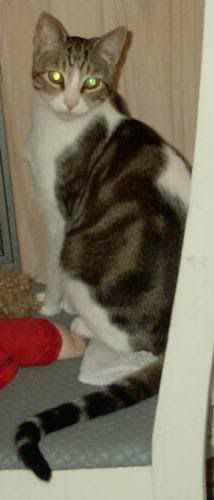 Pause and Napolean. Naturally Napolean looked away at the last second!
Pause stretching.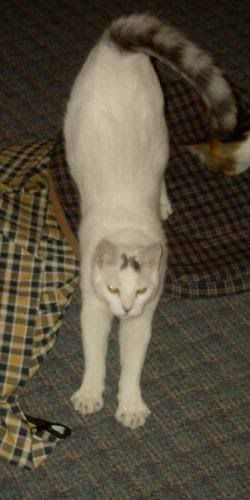 Pause getting sleepy in front of the fire place.
Playing with Sofie's tail.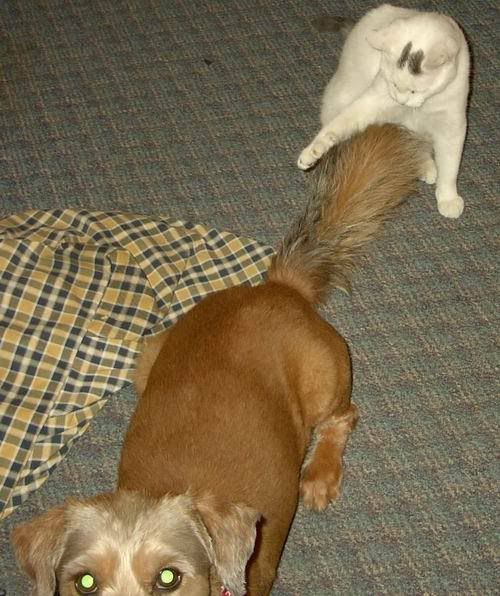 Looking smug.