This is Bea...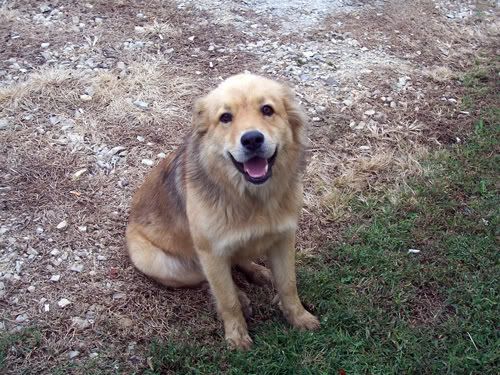 My sister in law runs a trailer park that my husbands grandpa owns. Bea is the neighborhood dog there. She is the guardian of the park, and always lets anyone know if someone is there that shouldn't be. Bea belongs to no one, yet most everyone loves her. She is approximately three to four years old, and from the best we can tell is a chow-chow mix. She loves children and would often wait for the school bus to come home everyday just so she could play with the kids. She co-exists peacefully with other dogs, countless cats, and runs off any other critter that might threaten something or someone in the park. One night there was what we thought was a bobcat in a tree above my SIL's house, we never got a great look at it, Bea ran it off. She never failed in her duty to keep everyone safe. Always on alert. Always loving, always wanting to be loved. My husband and I lived in the trailer park for about a year after we got married. Bea took up with us immediately and always seemed to be sleeping on our porch, waiting for us to come out and play. She loved to play with our german shepard mix, Pooch. I thought countless times about bringing her in and keeping her as my own, but she seemed so happy the way that she was. Everyone cared for her, and she never wandered far from the park. In my mind she became mine.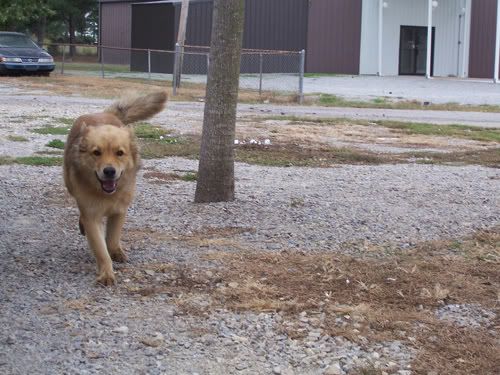 Today, I got a phone call that nearly killed me. It was my SIL. She said that Bea had been hit by a car. She wasn't putting any weight on her front right leg and it was bleeding. I immediately went to her house and we loaded Miss Bea up in my truck and took her to my regular vet. They ran some x-rays and when the vet came back into the room, my heart hit the floor. She hadn't been hit by a car, she had been
shot!!
Square in the elbow. The joint is pretty much shattered and pieces of the bullet are evident in the x-ray. What kind of cold hearted person shoots a dog that wouldn't hurt anyone or anything?? The most loving, sweet, gentle dog in the entire world...
The vet said we had two options (3 if you count her being pts, but that
wasn't
an option). He could do surgery, remove the bullet fragments and piece back the bone as best he could with pins. This was going to run me 700 dollars!! I just couldn't afford it. I wish I could, but I can't, not all of it. The other option was to splint it with a hard fiber glass cast that she would wear for a minimum of 4 months and let the bones fuse back together while keeping her on antibiotics and pain meds to manage infection and pain. That alone cost me 300, and that nearly broke the bank. She's here with me now, and for now she's safe. I just hope that I made the right decision. The risk of infection is high, and the leg will never be as functional as it once was (but then again it wouldn't be with surgery either). At least she has a chance. I don't know if we can keep her long term, but at least until she's healed, one way or another she's staying here. We'll figure out the rest when it gets here.
She's still sleeping off the anesthesia (they had to put her under to straighten out the leg so they could splint it) but hopefully she'll be back up on her 3 good legs by morning.
The splint is fiberglass, and in two pieces so that I can remove it every week or two and clean under it and check the wound. He secured it with duct-tape, weird I know, but it makes it water proof, its economical and it holds the cast right where it needs to be so that it doesn't fall and cut off circulation to her foot.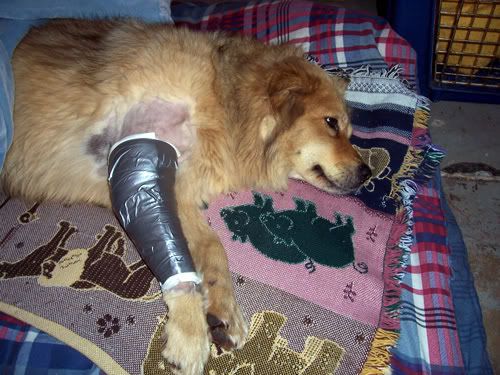 If you don't mind, please keep this sweet girl in your thoughts and prayers. She did nothing to deserve this.