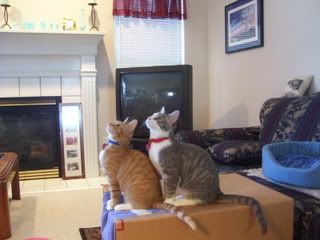 Hi Everyone,
To those of you who know these boy's story, Eilcon's prior foster boys from around Halloween, they saw their first snow in their lives today.
I opened my blinds this morning as usual and the boys were attempting to catch the blinds strings as usual, and I was trying to show them the snow. A few minitues later, Douglas did a double take and I was rofl.
He jumped up against the window to try to get to it and fell off the window ledge, (only a foot). Meanwhile, Deacon who was also seeing it for the first time kind of did his usual meow language to Douglas and ran up to him as if saying, "should we run?", "should I be scared?", "If so, I'm outta here, since I run faster than you, see you on the other side!"
Below is an updated picture of them I took yesterday looking at a contraption I hung from the ceiling fan to entice them to hoan their jumping skils.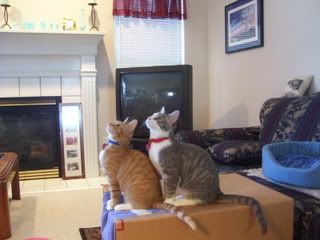 Helene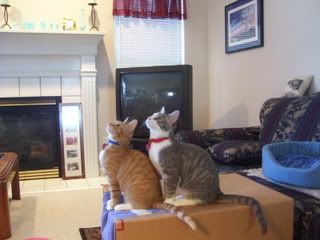 Someone help me!! These arent pics! Im's kinda computer challenged!