Hmmm. I debated on whether to start this thread (and maybe you all have had a thread like this in the past...). I was just on another online forum and there was a "baby picture" thread and it was a lot of fun, so I started thinking (which is always dangerous in my case).
Sooooooo....allow me to make an A** of myself:
Here I am with Pittsburgh Steeler Mean Joe Greene in 1972 at training camp. This pic is my dad's most prized possession.
When I asked him for it (so I could get it blown up and Mean Joe to autograph it), he was hesitant -- "what if something happens to it when you're getting it enlarged?!"
As you can see, I wasn't much of a football fan back then, but I sure am now!!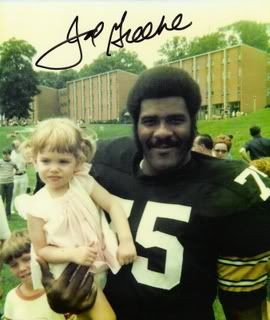 Anyone care to share their baby pics?
Please?