First Trout (see the 'Trout NOOOOOOOO' thread) and now Jack... Bit has been awfully quiet... at least to me... now we know why. He's influencing everyone else's cats. (Including Little A and minions...)
Here's what Jack did.... this time i caught it on 'film.'
Jack has decided my newest houseplants are perfect for a between meal snack... only problem: they're up on the raised counter. This boy hasn't gone on my counters in three years... now he's really trying my patience... but he IS my baby boy.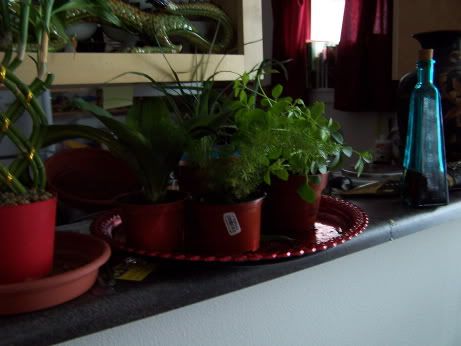 Mind you, this is after I cleaned most of it up... there are five plants total... all getting water from a cheap serving tray (the red thing) beneath them... please excuse the mess... all horizontal surfaces become storage spaces in my apartment. Also I just got back from my parent's house over Christmas and brought back a ton of stuff... and then realized my hand was sprained... so I can't do much cleaning...
Their food and water are normally where those towels sit...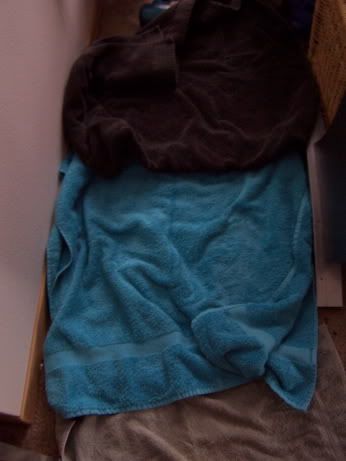 Ignoring me... he knows he's guilty...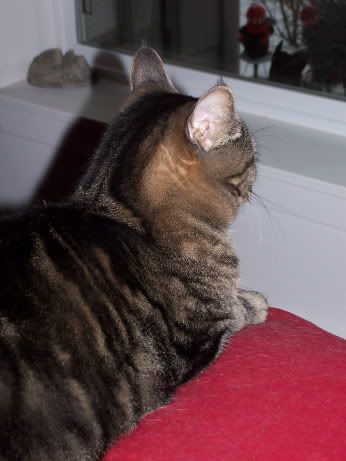 Here he is lookin all innocent...
Of course, JoJo may have been in the area... she came up to me after I set the towels down... she was licking her paws and the top of her head was wet... hmmm... I know she's not the guilty one, as she doesn't jump on counters... as well as the fact that I saw Jack up there earlier... I should have taken pics of the mess, but i was too
at Jack. This is the second time the plants have landed in their food and water (first time was my fault... maybe he's just trying to emulate Meowmy's klutziness... ahh... nope. )
So, 8-Bit, wherever you are, you must be laughing... because you're having quite a bit of influence with the others around here... no wonder my office chair has been spun around when I get up in the morning... SOMEONE'S been chatting with 8-Bit at night.
I love him anyway... antics and all...