Ginger has always been affectionate, and loves giving rubs
and headbutts, and getting petted. I didn't think that she was going to make any more leaps of faith and trust - she seemed to trust us quite well. I was wrong, and it just made my heart sing!
OK, first, just a cute picture of Ginger hanging out by the stair railing. Notice how she's wrapped completely around the pole.
I don't know if she was "pole dancing"
or practicing how to snuggle.
Anyway, Trent was very snuggly this weekend with me, and Ginger watched him snuggling with me on the couch yesterday. After he left, she decided that she could try it for herself. Now, she's never been anywhere close to a lap cat, or snuggling up on our chests when we recline. But she did yesterday! And she found out that it was really nice to be that close to Meowmy.
So today, Earl was sitting on the couch watching the game. The same place I was at when she snuggled me. She decided she should try it with Daddy, too (I had to explain to him that she's just learning how to snuggle, and to be extra nice to her). It didn't take long before she found out that snuggling with Daddy is really nice!
And getting scritches from Daddy can be kitty ecstacy!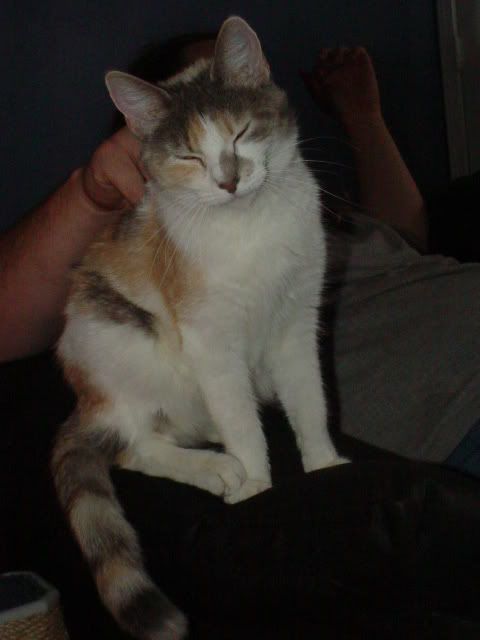 I'm so proud of little Ginger Cookie!