alrighty.. i have me 5 amazingly active fur-kids. and i love them ALL to death. so i thought i would put some pics up. .they arent that good.. but ey! a picture is a picture!
but i do have a question.. my oldest allie who is about 1.5.. im trying to figure out what she is.. i mean.. her litter consisted of 7 kits. 2 black and white 2 orange and white, and 3 white with im guessing cream.. i have no idea..
now all i have is the 2 orange and white and then one of the white ones.. the one we thought was going to come out all white.. but ended up getting very little cream and little black spots on her ears.. so i will identify the ones in question.. if anyone could help me out that would be greatly appreciated. =D
Allie
, the one is question
Up Close and Personal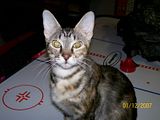 What the hell is he doing? shessh.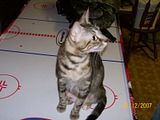 My water jub, back up!
Boo
, another in question
Just let me stretch.. jeezzz
U cant really see it, but this is her back with the cream patch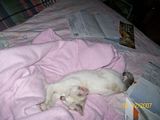 and her little black nose and ears. =D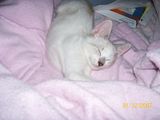 And now for the rest of the bunch!
Butterball - mostly white, & Auby, our auburn tiger my 2 boys
Head shot of the 2! they find the oddest places to sleep.
Gizmo (female lol) its extremely hard to get good pictures of her.
Auby beginning to wake up
I love to climb
and play in bags =D