This is my exciting wildlife adventure. For those of you who don't' know me, my husband and I live in the wilderness of Missouri.... down a dirt road by a crick where humans are the minority....hehe But what I am outlining below is probably one the most special experiences of my life in dealing with a wild animal/bird...
Husband and I found a hawk eating his prey on the 30th of december. Which was an opossum... He allowed us to approach him to within 3 feet. I took approx 50 pictures of him. He stood his ground and ate his food. He was very hungry or he would not have let us get that close. He dragged the possum a ways from us first because it was too heavy to fly with but he would not abandon his kill.
It was amazing to watch the ways of nature unfolding directly in front of us.
Here's 4 of the pictures I took and I took approx 50 pictures. This is one reason I am so thankful I have an enclosure for my kitties.
This is Mr. Hawk standing his ground..... The feathers on top of his head are raised up...... Juan was worried we were going to get attacked. I talked real quiet to Mr Hawk and he let us stay there. He had approx a 4' wing span... In this picture, you can see the tail of the opossum underneath him. He had already killed it.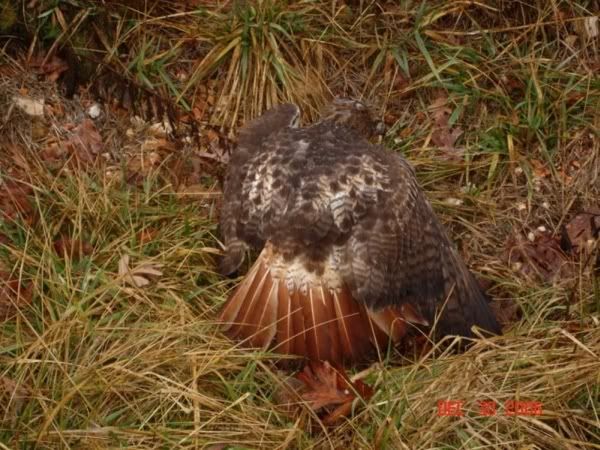 He appeared to relax slightly or else he was real hungry. He chowed down.
And I blew up a couple picture of his face. He was so beautiful and it was so amazing to be this close to a wild animal in his natural environment. It might never happen again.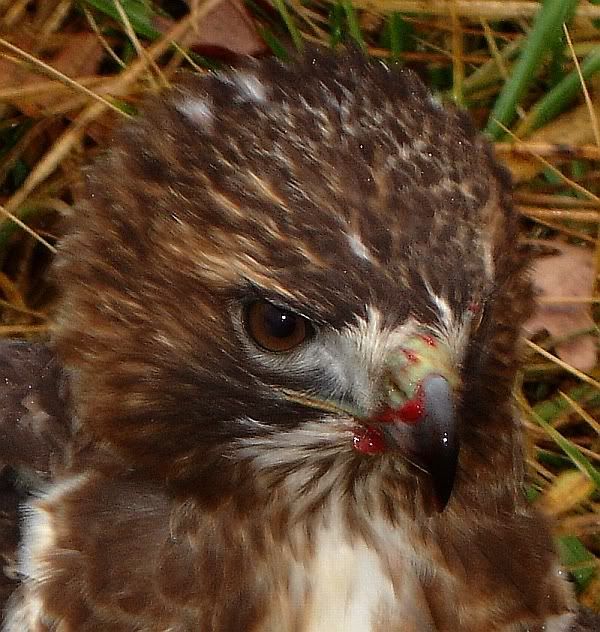 It still gives me chills.........
Very moving experience....
It was slightly misty and in the closeups you can see the mist on his feathers if you look close...
My husband said the hawk was majestic..... and he is right. I can't even stress how amazing this was.