Brotherly Love?
offline
2,244 Posts. Joined 1/2006
Location: philadelphia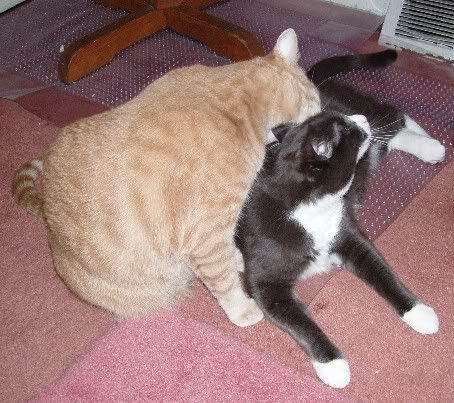 OR NOT
!
Mrs. H

offline
23,918 Posts. Joined 3/2006
Location: Snowy Santa Land
Awwwwwwwww, Brotherly love for sure
offline
18,426 Posts. Joined 7/2006
Location: In a state of misery w/o my Bella
That looks familiar
Slave to a houseful of fur

offline
5,017 Posts. Joined 11/2006
Location: Pittsburgh PA
except my two are "sisters"
but urs too are soo cute...
definetly brotherly love playtime
offline
6,995 Posts. Joined 8/2006
Location: The North Pole!
Yup - that's my two boys too! When they start grooming each other, I tell hubby that the kitty rumble will start any minute, they're just cleaning the spot before they try to "bite" it!